Whew! We're back from M's surgery in LA. The weather was great. Surgery was stressful, but went well. It was not an eating kind of trip, so no dining of any note. We did check out the famous
Pink's Hot Dogs
, where I had a dog with mustard, cheese, grilled onions, and sour kraut, as well as onion rings and a Grape Crush. Other than that, we mainly ate at either crappy places or in our room, which had a kitchenette. We hit Trader Joes and ate fairly decent frozen family meals on most nights.
But I'm not in the mood to discuss LA, since it wasn't a particularly fun trip. So let's talk about a date night B and I had at
Osteria Marco
over the holidays. What a great night! B and I were SO ready for a night out sans children and we were very hungry. The atmosphere was cozy, if not a bit too warm. But that would be my only complaint. Our server was a sweetheart and the food and wine were great. I started out with a generous serving of the house made limoncello to make me even more toasty.
We skipped the usual courses and ordered a ton of formaggio, salumi, and antipasti. The house-made burrata was the big hit of the night. So creamy and cheesy.... We also had the bresaola (red wine cured beef), the duck liver mousse with cornichons and grilled ciabatta, and the steamed P.E.I. mussels with spicy sausage and garlic toast. In this picture (pardon B's poor food photography skills), you can see the duck liver at the top right, the mussels and burrata in the middle, and the bresaola on the bottom right: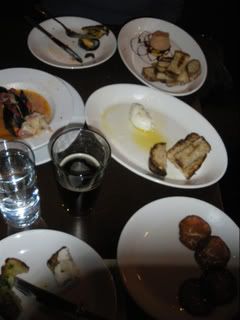 But no, we weren't done there. We then ordered the home made ricotta and braised octopus with ceci beans (I haven't heard that term since I left upstate NY). We finished it all up with a piece of molten chocolate cake. No pictures were taken of these dishes, probably because we were enjoying the house wine (yummy and a good deal at $5 a pour) too much. Note my numerous chins--perhaps because of meals like this?