I've been meaning to post this for awhile, and since I've waited so long, you only have one more chance to get this meal: this Saturday.
We like to go to
Golden's Farmers Market
on Saturdays--the last one is this weekend, until next year. There is a tortilla stand there that sells tortillas and frozen tamals and meals, including quesadillas, burritos, tacos, and my favorite: pupusas. Pupusas are from El Salvadore and are a thick corn-based tortilla or flat bread, stuffed with goodness. I prefer the pork and cheese-filled ones from this stand. They serve it with a side of salsa and a salad of shredded lettuce, tomatoes, and chiles.
Get your pupusa (or other treat--I've tried the burritos, tamals, and quesadillas, and they're all good) to go. Then hop on over to nearby
Golden City Brewery
, where you can order a beer and sit at one of the picnic tables with your lunch. Recently they've had a seasonal brew that I adore called Golden Gose.
Gose beer
is a beer I'd never heard of--a wheat beer brewed with coriander and salt. GCB serves it with a shot of raspberry. Sounds gross, but is delicious! Truthfully, I can't taste the coriander and salt really, but the beer is light and perfect for a summer's day--it doesn't even really taste like beer. And it just happens to pair with the pupusas perfectly.
Another great thing about this perfect meal is that you can take the kids. Mine get hot dogs from the Farmers Market and buy a juice or pop at GCB. There's even a wooden train for the kids to play on at GCB. My boys love it.
In my picture of my perfect meal, you can see the wipes we brought for the kids and even a juice bag (or joosh bag, as we like to call them) in the upper corner. Shown here is my delicious pupusa with salsa and salad spread all over it--the best way to eat it, a pint of Golden Gose and some samples of other brews, which GCB is always happy to let you have.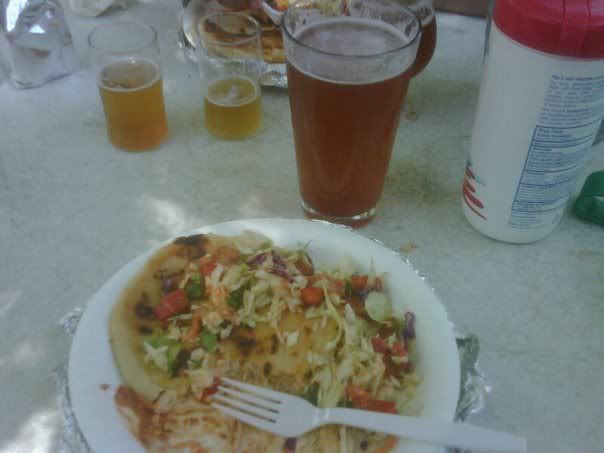 So get on over there this Saturday! Maybe you'll see me.
ETA: and here are pictures from the last weekend (pardon the fuzzy camera phone quality). Gose is probably still available at GBC, so you can still check it out. I talked to the woman at the pupusa stand and she said they want to open a restaurant but don't know where or even what it will be called. So hopefully they'll be back at Golden Farmers Market next year.