A good vegetable tart is a wonderful way to use those summer vegetables. Here are a couple I've made recently.
Rustic Summer Squash Tart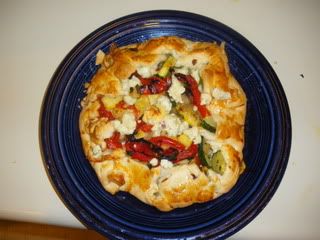 According to the link above, this was originally published in Woman's Day magazine. I used all three squash mentioned in the recipe (zucchini and yellow squash from my garden and pattypan from the farmer's market), but you could use any combination of summer squash or just one.
I'm changing the recipe a bit, because I found that the filling was way too much for my pie crust. I ended up using 2 pie crusts and half the originally indicated amount in each crust.
Ingredients
1 tbsp Extra-virgin olive oil
1 lb Mixed summer squash (zucchini, yellow squash and pattypan), cut in 1/4-in. rounds
2 Shallots, thinly sliced
2 tsp Chopped fresh thyme or marjoram, plus sprigs for garnish (if using dried herbs, use 1/3 to 1/2 the amount)
1 tsp Chopped garlic
Freshly ground pepper
2 Refrigerated pie crust (from a 15-oz box)--or better yet, make your own! (I didn't have time, though, haha)
6-8 oz Roquefort cheese, Gorgonzola or other good-quality blue cheese (depending on how blue-cheesy you want it)
1 Roasted yellow or red pepper (freshly roasted or from a jar), cut in strips. I roasted mine on the grill. Just grill it until slightly charred--delicious!
1 Large plum tomato, sliced, seeds removed
1 Large egg, beaten
1. Heat oil in a large nonstick skillet over medium heat. Add squash and shallots and cook, turning pieces as they start to color, 7 minutes or until crisp-tender. Remove from heat; stir in thyme, garlic and pepper to taste. Cool to room temperature.
2. Heat oven to 400F. Line baking sheets with parchment paper; unroll or unfold pie crusts onto the pieces of parchment. With a rolling pin, roll crusts to 13-in. rounds. Crumble 2 oz of the cheese over each crust (4 oz. total) to within 2 in. of edge. Arrange half of squash mixture, pepper strips and tomato slices on cheese on each crust; fold edge of the crust over filling and brush crust with egg.
3. Bake 35 to 40 minutes until pastry is golden. Slide tart, still on parchment, onto a wire rack. Crumble remaining cheese over top. Let cool before serving.
This dish is great as a main dish, a side dish, and for lunches. We served it with potato leek soup for a meal one night and then I took it as lunch to work the next few days.
Chard Tart
I got this recipe from the fun and tasty Seattle-based blog
Root Underground Food
, written by a couple in which the husband is an old friend of mine I haven't seen in probably about 20 years(!).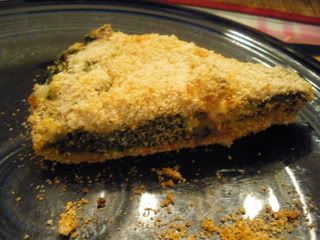 Please see their link above for a much prettier picture of the tart. The key is that they used "real" bread crumbs. I usually keep crusts of good bread in the freezer for making bread crumbs, but this time used prepared bread crumbs, which are much finer. If using the latter, like I did, I would recommend cutting the bread crumb amount in half. My crust was consequently very crumbly, but the filling was delicious. If I'd made it right, this would have been my favorite of the two tarts. Plus it has bacon!
2 bunches chard - chopped
2 cups breadcrumbs (if using store-bought prepared bread crumbs, use only 1 cup)
1/2 cup grated parmesan cheese
2 Tbsp olive oil
3 slices bacon chopped
1/2 med onion chopped
3 eggs
fresh grated nutmeg
salt and pepper
Cover chard with salted water and bring to a boil, cook for 15 minutes or until tender; drain and cool.
Saute bacon and onion until the bacon is crisp and the onions are golden. Cool.
Coat a 9" pie pan coat with oil and press in 3/4 of the breadcrumbs and half of the grated parmesan - like a graham cracker crust on a cheesecake.
Mix cooled chard, bacon and onion mixture, eggs, remainder of cheese, and the seasonings; carefully add to pie pan and breadcrumbs.
Top with the rest of the breadcrumbs and bake at 350 degrees for 1 hour.
Enjoy your tarts!