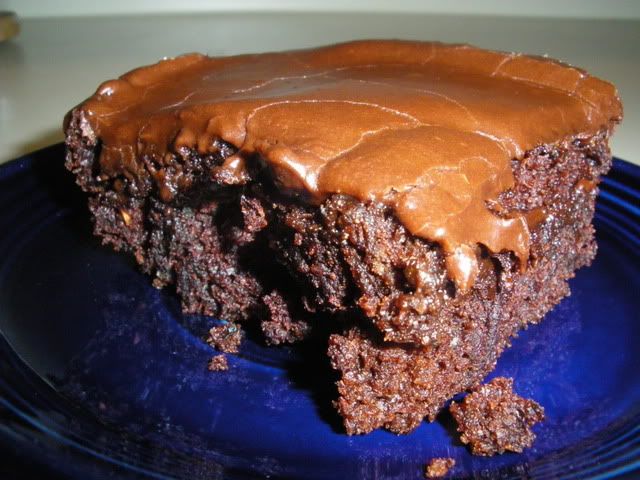 These brownies
are so ridiculously rich and delicious, that you'll never notice they have veggies in them. Even my picky 7 year old will eat them, which is truly A-MAY-ZING. I've made other yummy zucchini-containing desserts before and he wouldn't touch them. I think it's because he could see or feel the zucchini.
The key is to do more than just shred the zucchini. You have to totally pulverize it. I use the shredding mechanism on my food processor, then run it through the chopping one until it's zucchini pulp. I don't drain it at all. Since there are no eggs in the brownies, you'll need the moisture.
And these brownies are vegan too! Definitely vegan for the brownie part and if you use margarine (and consider it to be vegan) in the frosting, then that's vegan too. I use butter in the frosting, even though the original recipe calls for margarine, because...well...why use margarine when you have butter? I'm not a margarine kinda gal.
These make a more cake-like brownie. In fact, they remind me more of my mom's recipe for "Rich Chocolate Cake" than a brownie. But nevermind, they're delicious, no matter what you call them.
Zucchini Brownies
INGREDIENTS:
1/2 cup vegetable oil
1 1/2 cups white sugar
2 teaspoons vanilla extract
2 cups all-purpose flour
1/2 cup unsweetened cocoa powder
1 1/2 teaspoons baking soda
1 teaspoon salt
2 cups shredded zucchini
1/2 cup chopped pecans (original recipe calls for walnuts)
6 tablespoons unsweetened cocoa powder
1/4 cup butter (original recipe calls for margarine)
2 cups confectioners' sugar
1/4 cup milk
1/2 teaspoon vanilla extract
DIRECTIONS
Preheat oven to 350 degrees. Grease and flour a 9x13 inch baking pan.
Pulverize the zucchini as directed above.
In a large bowl, mix together the oil, sugar and 2 teaspoons vanilla until well blended. Combine the flour, 1/2 cup cocoa, baking soda and salt; stir into the sugar mixture. Fold in the zucchini and nuts. Spread evenly into the prepared pan.
Bake for 25 to 35 minutes in the preheated oven, until brownies spring back when gently touched.
To make the frosting, melt together the 6 tablespoons of cocoa and butter in the microwave or in a saucepan; set aside to cool. In a medium bowl, blend together the confectioners' sugar, milk and 1/2 teaspoon vanilla. Stir in the cocoa mixture. Spread over cooled brownies before cutting into squares.