As you probably know, this week is
Harvest Week
, a week in which Denver area restaurants create menus that feature Colorado grown and produced products.
We decided to check out
Steuben's
menu on Sunday evening, after an afternoon at the zoo. I love Steuben's for several reasons, but the top two are
1) THE COCKTAILS!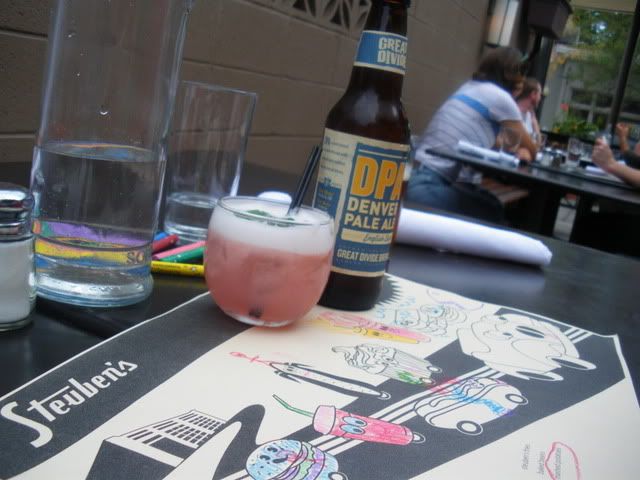 The Bees Knees III, consisting of honey vodka, ginger liqueur, lemon ginger simple syrup, fresh raspberries, lemon juice, and egg whites.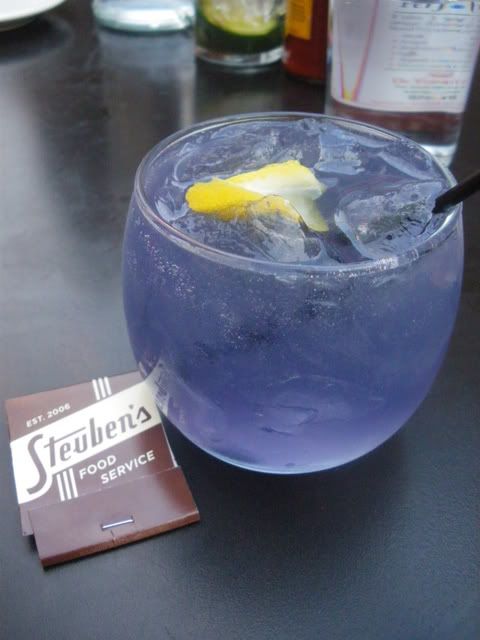 An Aviation, made of gin, lemon juice, Luxardo maraschino liqueur, and Creme de Violette. Check out how incredibly different it looks than
the one I had recently at Colt and Gray
. (The latter was better. This was too sweet. I think perhaps too much violette and hence the purple vs. yellow color?)
2) THE KIDS MENU!
There are not many places in town (or anywhere) where you can get good food and cocktails, yet still please the kids. As I mentioned, I think, before, my picky eater says that Steuben's is his third favorite restaurant (after Red Robin and McDonalds--argh). Their $7 kids meals feature veggies w/ranch, a main dish, a side, fruit, a drink, and oh, something else I forget.
Check out this interesting combination of spaghetti and mashed potatoes. This is the picky one. He asked the server if they give refills on spaghetti. He didn't eat much of the taters, but I liked them and they were great as leftovers with my chicken entree the next day.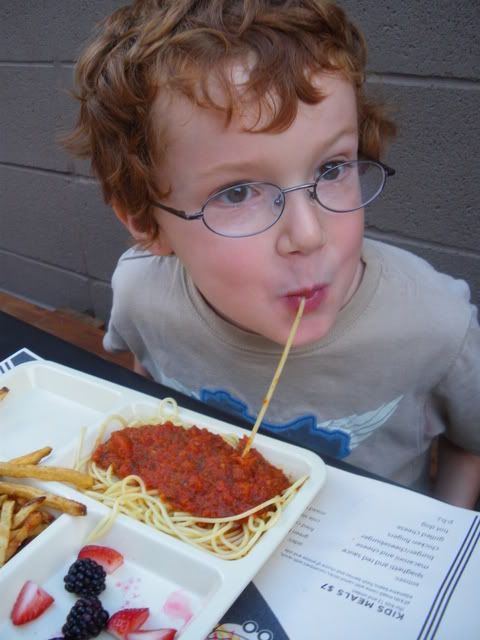 And another starchy combo of spaghetti and french fries.
Oh wait, I remember the other thing the kids meals include:
CUPCAKES! (or ice cream so your little one should desire)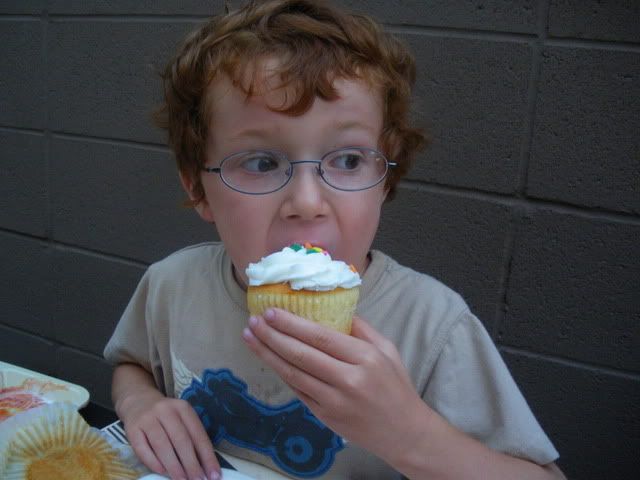 Other things I like about Steuben's include the funky retro decor, the patio, and the cute kids menus as artfully decorated by my boys: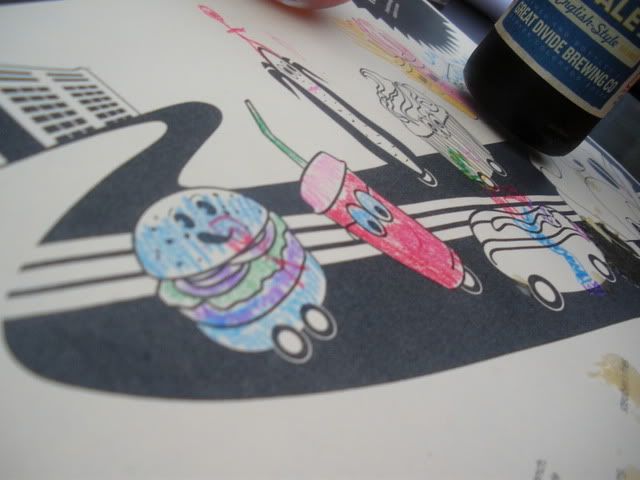 The Harvest Week menu is
here
. We decided to try just about everything. There was no room for dessert and I'm not sure why I didn't try the cocktail. I think I got mesmerized by the main cocktail list. I could study that thing for hours and hope to try them all at some point. :-)
We started with the Pork Belly Rillettes and MouCo ColoRouge. This dish was the one I looked forward to the most and liked the least. The rillettes were a little blah. It could have used more seasoning. The MouCo ColoRouge was very good, as their products always are, but it was such a tiny piece that if you put 1/4 of it on each of the 4 steamed biscuits, you wouldn't have been able to taste it at all. The biscuits were good, but perhaps a little overdone, and the pickled vegetables (leeks and ?) were really good--my favorite part of the dish.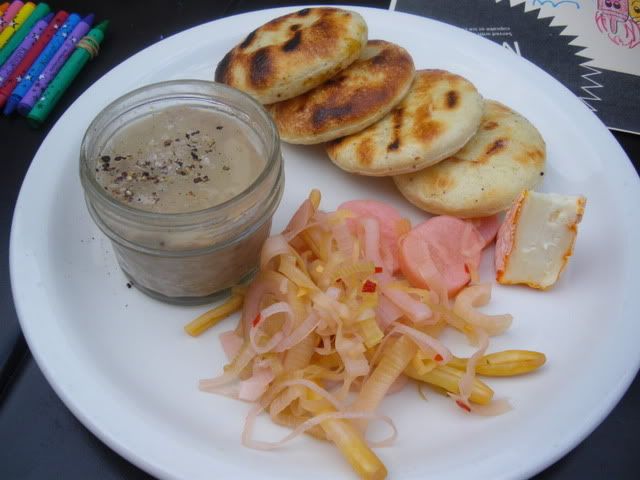 B had the Colorado Lamb French Dip with Fries and Stranahann's Horseradish Sauce. Two different servers warned us that it was "very lamb-y." We both liked the lamby-ness of it. And the horseradish sauce was excellent (although I wouldn't mind it being more horseradishy). It was huge and B ate it all. Impressive even for him.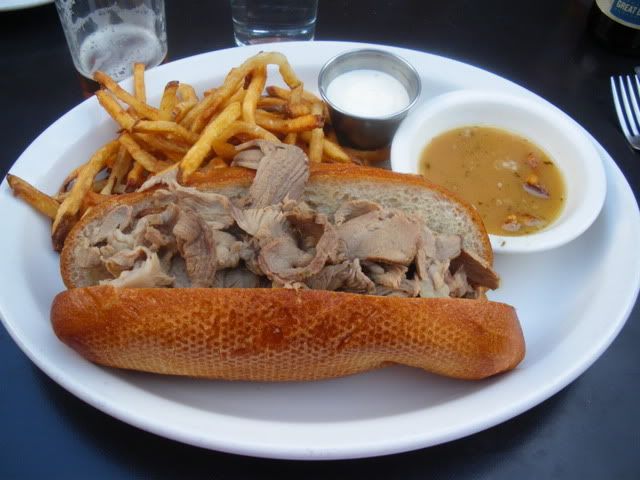 I had the Peach Glazed Half Roasted Chicken with Local Greens Panzanella. I was worried the chicken glaze would be too sweet. It was sweet, but the dish was sauced with a light touch--just the right amount of sweet. The greens included rainbow chard and I'm not sure what, but they were excellent, especially with the panzanella grilled bread. I've been really into greens this summer and these were some of the best I've had this season.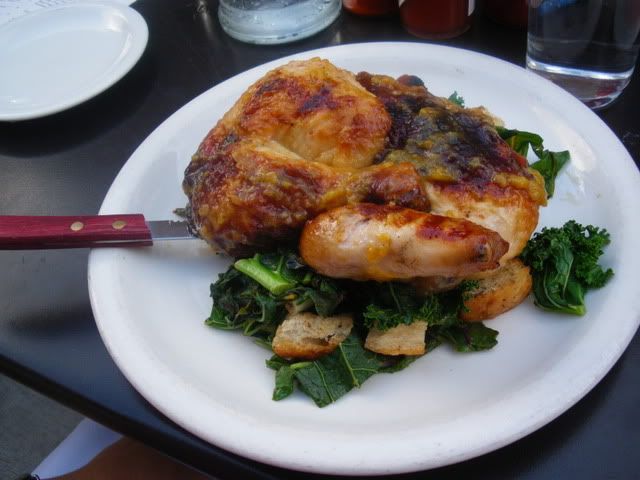 It was a super fun family night out and mommy got her cocktails, so all was right with the world. We all left full and happy.
Harvest Week is just half over, so get out there and try some local dishes. I wish I could hit a place every night, but this was it. We're babysitterless and saving funds for
Colorado WineFest
this weekend. Report to come!