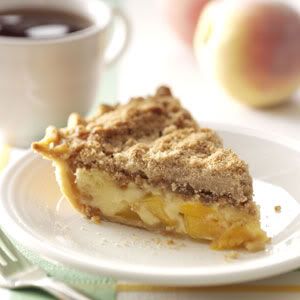 This pie is SO good! We had the best dinner last night. I spent all afternoon cooking, but it was worth it. We had a roast chicken, roast potatoes, broccoli with a dijon vinaigrette (plus I put up the half bushel of peaches we bought in Palisade), and for dessert this pie.
The picture above is from the Taste of Home recipe link. My pie did NOT look pretty, but who cares when it tastes so good.
Sour Cream Peach Pecan Pie
Ingredients:
PIE:
Pastry for single-crust pie (9 inches)
4 cups sliced peeled peaches
2 tablespoons peach preserves
1 cup sugar
1 cup (8 ounces) sour cream
3 egg yolks
1/4 cup all-purpose flour
1 teaspoon vanilla extract
TOPPING:
1/2 cup all-purpose flour
1/2 cup packed brown sugar
1/4 cup sugar
3 tablespoons chopped pecans
1 teaspoon ground cinnamon
1/4 cup cold butter
Directions:
Line a 9-in. pie plate with pastry; trim and flute edges.
In a large bowl, combine peaches and preserves. Transfer to pastry. In a small bowl, whisk the sugar, sour cream, egg yolks, flour and vanilla. Pour over peaches.
Bake at 425° for 30 minutes. Meanwhile, in a small bowl, combine the flour, sugars, pecans and cinnamon. Cut in butter until crumbly; sprinkle over pie. Cover edges of crust to prevent overbrowning.
Bake for 15-20 minutes or until a knife inserted in the center comes out clean and topping is golden brown. Cool completely on a wire rack for 3 hours before serving. Store in the refrigerator.
I've had a favorite recipe for a "peaches and cream" pie, but this one will be replacing it. It's definitely one of my top pies now.
Picky 7 year old wouldn't eat it, but the 5 year old had two helpings. I wanted two, but controlled myself!