Last weekend B and I went to the
Colorado Mountain Winefest
in Palisade as an early celebration for our anniversary (11 years on 10/2). We did this as a sort of follow up to our big 10 year anniversary trip to Napa/Sonoma last year.
It was packed! This will give you a little sense of the crowds.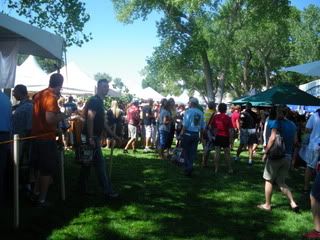 This display of t-shirts gave me a giggle.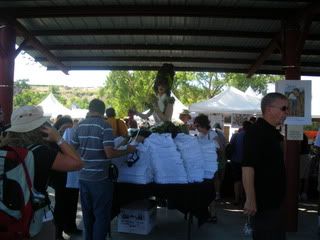 There were 52 wineries there each with numerous wines to sample. It was overwhelming! We hit the first table and tried each wine. We did the same at the second table. Then we realized that this strategy was not going to work--in fact it was a recipe for disaster! So from then on we only tasted award winners and wines that caught our eye. And we still tasted a lot. We also dumped anything we didn't immediately like. I hate the thought of wasting wine, but I was a dedicated dumper. I don't even know how much wine we must have consumed and dumped--bottles probably. By the end of the day we were definitely wined out. A good way to be! The festival was great for people watching too--especially as the day wore on. I generally hate crowds, but I didn't seem to mind it this day. I guess the wine put me in a good mood.
In our opinion--which is certainly not terribly knowledgeable, we just know what we like--Colorado does white, sweeter wines well, like Rieslings and Gewurztraminers. It does not do reds so well. The only red we bought was from Denver's own Balistreri winery. We ended up coming home with 15 bottles (3 were a gift). More on those later in this post.
On Friday, we visited
St. Kathryn Cellars
and Confre cellars (in the same building), the first tasting room off the road. It was the only one we went to before the festival, because we got to Palisade just a few minutes before 5 pm. The wines there were not our favorite, and they seemed to focus on fruit flavored wines, which I'm usually not too fond of. But there were a lot of wines to taste, so it's worth a stop if you're in Palisade.
We stayed in Grand Junction and tried a few restaurants in GJ and Palisade, but none that really excited us. On Friday, we tried
Inari's
in Palisade. The high point was sitting at our table under an umbrella in a hail storm (and sunny!). We were excited by the sample menu online which included "Southern Fried ½ Rabbit With edamame succotash and potato" and a "Colorado Leg of Lamb Braised for 9 hours with tomatoes and red wine." Yum! But the current menu had nothing like this and was fairly uninspired. B got a ho hum pasta bolognese and I got an even more ho hum fish cake dish. Here's my cutie:
And our calamari starter. It was okay. That "aioli" next to it tasted a lot like thousand island. That's a Colorado wine next to it, of course!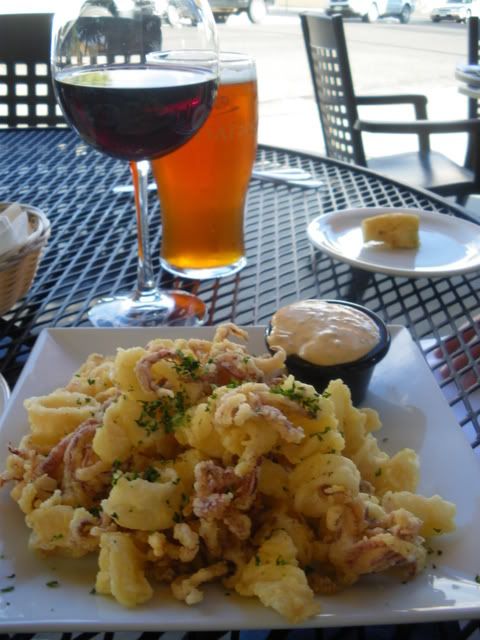 B's half eaten bolognese. I never got around to taking a picture of my dish. You can see the hail in this pic, which is why I'm posting, since it's not a particularly pretty table pic.
After we hit the town of Palisade. First we stopped at
Peach Street Distillers
, where they make all manner of booze: vodka, gin, brandies, and Colorado's first bourbon. They make everything from Olathe sweet corn. You can sample their wares and buy a number of mixed drinks, which they quaintly serve in jars. B had a bloody mary and I had a gin drink. Here you can see our drinks and the brewing casks (is that what they're called?).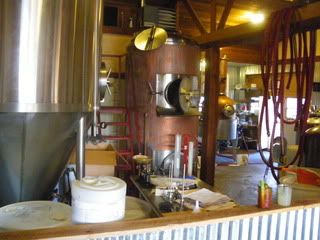 This is not the best quality picture, but it shows the distillery's kitty, who was very friendly.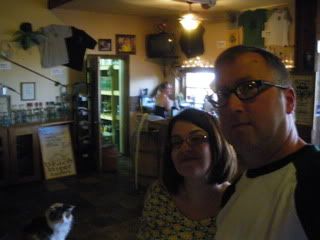 Check out these gorgeous bottles of pear and peach brandy. Yes, that's a pear in the bottle. There's grappa pictured too. The pear tasted like it needed to develop a bit more, but I think it will be quite good. And that bottle is beautiful! Look for the handmade beads in the shape of pears and peaches hanging from the bottle.
Here's the Colorado Straight Bourbon, "Colorado's first bourbon," also with a handmade bead. I bought a bottle.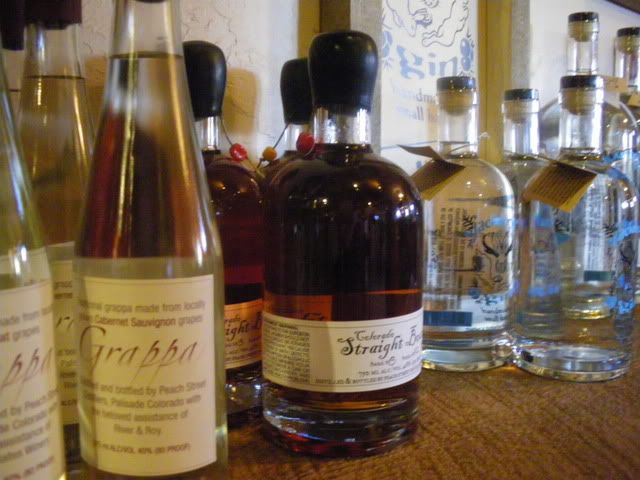 As you can see, the distillery made me very happy.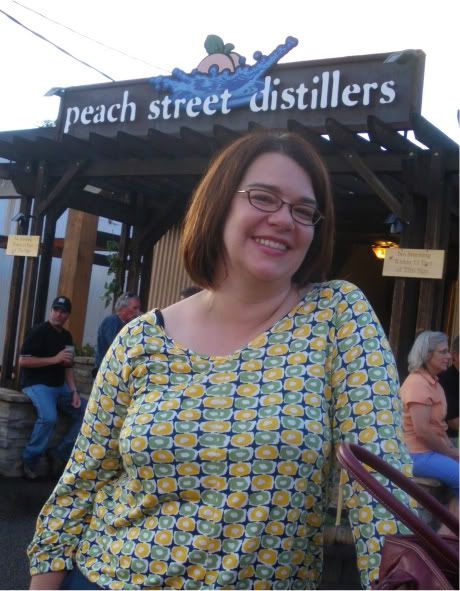 The bar tender was very friendly and suggested we go meet her boyfriend who was tending bar at
Palisade Brewery
just a few buildings over. The beer there was quite good. Like the dragon decoration?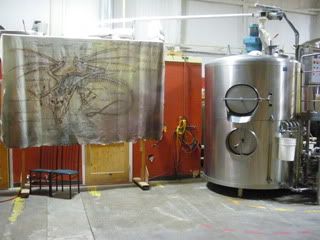 Later that evening we checked out
626 on Rood
in Grand Junction for some late night snacks. The lighting was bad so I didn't get worthwhile pictures and the service was lacking, but the snacks were tasty. We got the seared Foie Gras with caramelized blood orange and Cointreau Noir sauce--the sauce was a little too sweet, but otherwise it was a good dish--and the cheese fries with white truffle oil and French sea salt--hard to ruin those and they most certainly did not. Yum!
On Saturday evening (after the festival), we went to
Bin 707 Food and Wine
, where we did NOT have any wine (we were actually sick of it). It was okay.
On Sunday, we visited wineries. We started out with a tasting at
Whitewater Hill Vineyards
. We particularly liked their Gewurztraminer, Muscat Canelli, and Zero Below, which I believe is an ice wine.
We then headed to
Carlson Vineyards Winery
.
My mom had asked me to buy them some of their Laughing Cat Riesling, saying it's one of the only wines my dad likes. It is really quite good, but I thought their Laughing Cat Gewurztraminer was fabulous. They had kitties in the winery too!
I know I said earlier that I don't generally like fruit flavored wines, but I really liked their Cherry Wine, which is made with pie cherries and tastes like it. They served it in a glass whose rim was dipped in chocolate and together they were just like chocolate covered cherries! They sold the wine with or without some meltable chocolate from
Enstroms
. I bet you can guess which one I bought.
We headed over to
Plum Creek Winery
, where we got a nice tour in addition to the tasting. Our tour guide, who takes care of the wines (can't remember what the title is), was really knowledgeable and was so nice. We joined the tour late and after he took just the two of us and "re-did" what we missed. Now that's some service!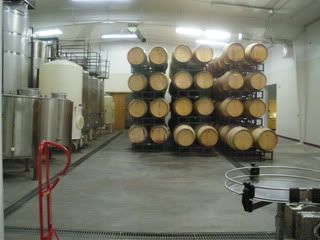 I got some pictures of the vines and grapes too. That background scenery sure is different from California wine country.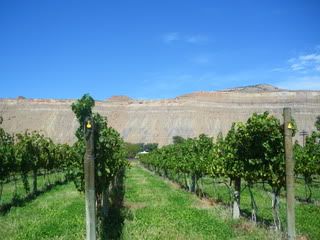 Last but not least, we visited
Garfield Estates winery
, a small but lovely little place. Here's B here, showing his love for wine:
On our way out of town, we stopped at one of the roadside "stands" and bought a half bush of peaches (which I just put up today), some peach syrup, and some honey. This is from another stand down the road, but it was just too cute.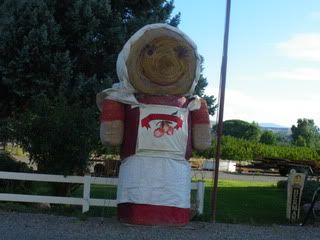 And last, but not least, a very Colorado picture of B at a rest stop we stopped at in Eagle. I can't believe I didn't get any pictures of the aspens! But they were in full swing. Gorgeous! It was a great weekend. Happy anniversary (early), honey!