B and I went to
Colt and Gray
, Denver's new "gastropub" on Saturday. I'm not sure why it's considered a gastropub and not a restaurant. The atmosphere was not what I would consider pub-like--more of a modern restaurant with clean lines. And the bar was fairly small--although, granted, the place is fairly small altogether. But, really, I don't care what they want to call themselves, because the food...oh, the food!
We had a bit of a hard time finding the place. They are not at their published address of 1553 Platte Street, but are around the corner. And they don't have a sign yet. We had to go up and ask some servers standing outside if we were in the right place. We didn't have reservations, but were able to get a seat at one of the bar tables.
The menu ranges from "bar snacks" to small plates to full entrees. I was disappointed to see that the "kids menu" disappeared from the website. I never saw the actual menu, but they had a page "under construction" for it when I first visited the site. A menu that includes the kind of food they serve
plus
a kids menu gets me really excited. They may still have a kids menu by request, but I didn't check, since we were sans boys. If they don't, I hope they will still create one. We need more good restaurants that kids can go to in Denver.
I started with one of the "classic" cocktails called "The Aviation," a gin and lemon-based drink. B had a Fuller's Mr. Harry ESB, which they have on tap. They also have a decent beer and wine list.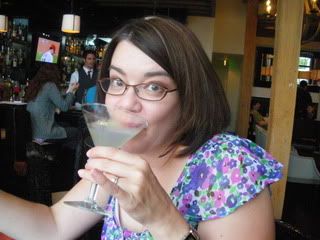 We decided to stick with small plates so we could get a wider range of tastes: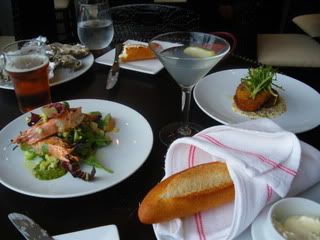 From the "bar snacks" portion of the menu, we ordered the Long Farm Crispy Pig Trotter. I must admit we were expecting a pig's foot to gnaw on and we were actually kind of excited about it. But we got this: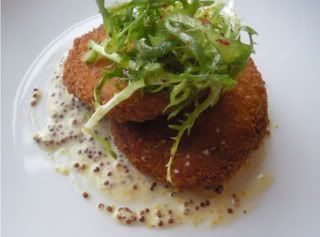 And we certainly weren't complaining! Other than a pea-sized piece of bone in mine, these were perfectly delicious--a minced pork patty fried in a crispy batter and served with grainy mustard and salad. They were finger-lickin' good.
Next up: Chili Garlic Prawns with Coriander and Cashew Pesto and Avocado Citrus Salad: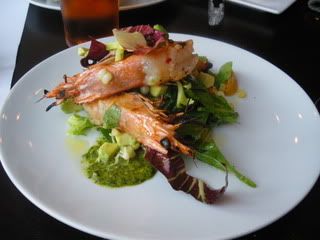 This was our favorite dish. The prawns had a smoky flavor and the pesto was so good we practically licked our plate. In fact, B tried to pull a fast one, saying "Look over there!" so that he could swipe his finger across the plate while I looked away. The oranges in the accompanying salad were sweet and tart and fit beautifully with the other flavors.
The Oysters on the Half Shell with Citrus-White Wine Mignonette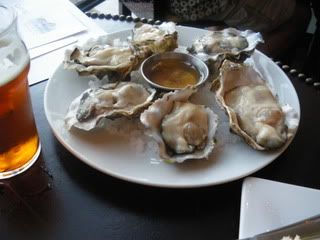 were good, but I wanted the mignonette to have a stronger flavor. I enjoyed them, but they just didn't compare to
the one's I had recently
at Indulge French Bistro. Perhaps, if I hadn't had those in my recent memory, I would have been more excited by these.
We were wanting more so ordered a charcuterie and cheese plate with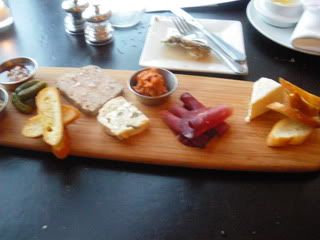 house-made country pate, a blue cheese that was not on the menu but the server recommended, Boccalone Nduja, Bresaola, and Collo Rosso cheese (a soft cheese). The plate came with grainy mustard, mango chutney, and cornichons. We both liked the
Boccalone Nduja
best. It's a spreadable salami and the meat in the little tin above. It's spicy and oh, so delicious. The pate was good. Actually everything on the plate was really good. I would have enjoyed some honey to go with the cheeses (in addition to or in place of the mango chutney), but that's just my personal preference.
Our server was very friendly and knowledgeable and quite attentive until the place started filling up. It took a long time to get our second round of cocktails and we were told that the bar was "backed up," despite the fact that the place was not that full. I'll chock that up to the place being new and won't fault them, because overall the experience was great.
ETA: a friend just pointed out that Ruhlman's blog has a
post on the Aviation cocktail
. Yummmm!
I can't remember the name of the second cocktail I had but it was another one of their "classics" and was made with chartreuse and calvados (in addition to ?) and garnished with delicious (non-maraschino) cherries.