B and I had a fun night at
Lola
recently. The kids were with the grandparents, so we hurried out of work and tried to make happy hour on a Friday. It turns out that 5:45 (15 minutes before happy hour ends) is a great time to get there, because that's right about when they kick people off a few tables on the patio to make room for diners. Since we were planning on eating, we got one of these tables right away, and still got to get a round for happy hour--a margarita for B and some sort of basil and lime concoction for me. I was a little disappointed in the latter. While I don't want a strong basil taste in my drink, I'd like to taste it a little. The drink didn't taste much different than the margarita.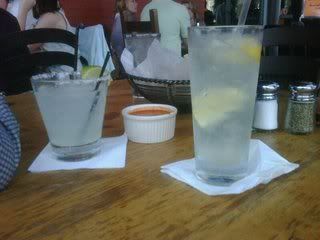 We ordered the chips and tomatillo-green apple salsa to start, but got the charred tomato-chipotle salsa (shown above). Call me greedy, but when a restaurant makes a mistake like that, it really peeves me when the server doesn't leave the "wrong" dish there for you to eat. It was whisked quickly away while she went to get the right one. We'd already tasted it--what is she going to do, give it to someone else? I hate wasted food. Plus I would have liked to have had both salsas, of course! If I were the server, I'd bring the requested dish, but leave the mistake one there for the table to eat. Anyways...the tomatillo salsa was especially good.
We ordered the agave glazed pork belly sopes with cactus pickles, green chile mustard, and crispy onions to start. It was tasty--especially the cactus--but a little bland.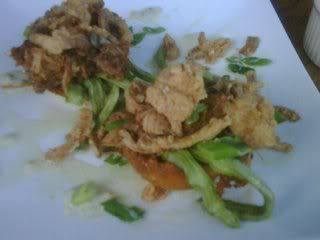 I ordered the field greens salad with manchego, fried green tomatoes, and cilantro vinaigrette--mainly because I can't resist fried green tomatoes. And these were especially good. Another peeve--the server brought my salad with our entrees. My entree was the chile blackened yellowtail tacos. These were fresh, but a bit underseasoned. Here are both dishes: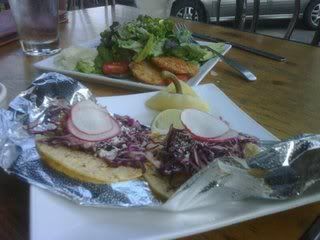 B got the ranchera smothered relleno burrito: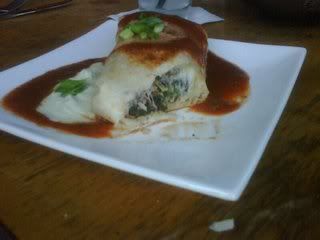 I was a little underwhelmed with Lola. My food was a little bland. The stars were the tomatilla salsa and the fried green tomatoes on my salad. The service was okay, but not stellar (although my server had an adorable hair cut!).
Here we are, with me looking smuggy. We had fun anyway--we were out without kids!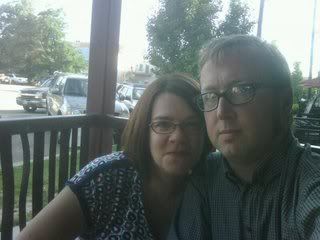 After we stopped in
Zio Romolo's Alley Bar
for a quick drink. It was a spur of the moment thing and we stupidly didn't realize it's attached to
Pasquini's
at first. It's an adorable skinny bar with gorgeous bar work (see the website), but my favorite part was the pictures in the ladies room (actually in Pasquini's), like this one: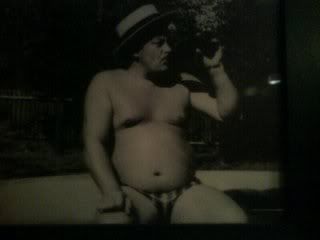 It makes me laugh, what can I say? The bartender was nice and they had a good selection of locally made booze.
We stopped at
Indulge French Bistro
on the way home, just to check it out. We sat at the bar with the very loquacious and self-deprecating bartender who looks a wee bit like Eric Stolz (it's gotta be the long red hair). He made me a Manhattan with St. Germaine liqueur, which was good, although very sweet. And, on a whim, we ordered the Island Creek Oysters on ice with mignonette aspic. Oh my, were they good! I swear I could have eaten 7 orders of them. Here's a really crappy pic that doesn't do them justice at all. I will definitely head back there for more tastes sometime.