On Wednesday, we started with lunch at
Sherpa House
in Golden. Love
this place
! And hope to post more about it soon. I've tried numerous dishes there and all have been excellent. They have a gorgeous patio too and really cool decorations inside--it's practically a museum. They serve Nepalese, Tibetan, and Indian food.
On this particular day they had some fish specials and I got the salmon. The picture looks ridiculously yellow, because we were sitting under a yellow awning.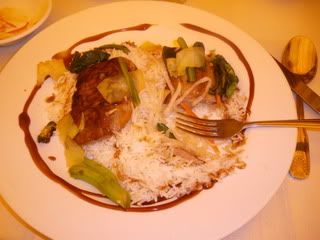 We ended up having dinner at
Marrakech Cafe
on S. Colorado and I was pleasantly surprised. We hadn't planned on going there, but ended up there after a day of mishaps. I judge a middle eastern restaurant by its baba ghanouj and theirs was really good.
We saw
Food, Inc.
at the nearby theater and it was good, but hey, they're preaching to the choir here.
On our way home we stopped at
Sketch Wine Bar
. Warning: despite their address and articles about them, they are NOT on Broadway, they are around the corner on 1st. We were full so did not eat, but I had a nice glass of red and some of their white sangria, which I really enjoyed. They limit you to three. I'd like to go to the limit some time. It was very refreshing and not overly sweet. The dj was annoying and unnecessary for a quiet Wednesday night (okay, not so quiet with her loud tunes). Do you really need a dj to play Hall and Oates, and not even mix it with something else? So we sat outside and enjoyed the night air and Baker people watching.