I've been eating lots of asian meals in a bowl lately. I've had these pictures to post and then found stuff about both restaurants on other sites today.
First, a recent lunch at
Domo
, an absolutely stunning Japanese restaurant. It's worth going there just for the decor and garden. But the food ain't bad either. Is it the "best in Denver" as so many say? Not sure about that, but it's pretty darn good. And yes, as everyone says, the service is lacking. And yes, it also annoys me that they are so hard core about the "no condiment" rule. I don't think I'd ask for condiments, but it bugs me that I can't. And they don't bring your food out at the same time as the person you're sitting with. Hate that. But look at these beautiful trays of food:
A noodle bowl with udon and shrimp tempura: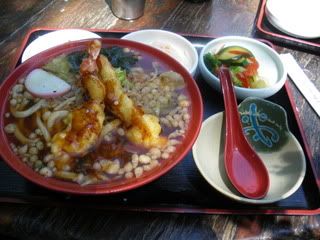 Nabemono with Kara miso (chili and Japanese bean paste) and Tori Nabe (chicken and vegetables):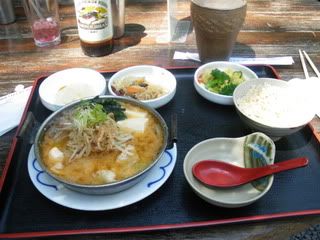 Both served with 3 country side vegetables.
And delicious Jamaica iced tea: "Jamaica tea is made from the red hibiscus flower and is one of Domo's most popular herb teas. Jamaica tea is rich in vitamin C and potassium, and said to be good for your heart and digestion. So this season's harvest is fresh, delicious and good for you too! This robust, citric tea is imported directly from Mexico." It's so yummy and refreshing. Sadly they were out of Sapporo, so B had to make due with a Kirin.
So today, I see that
Denveater has a post
on Domo. Much more thorough than this one and lots of great pictures.
I also went to
Pho 95
for the first time this week. All the rave reviews on that Yelp link are true. The food is so good and comforting and the service is so great. The waiter mentioned is so nice and gave my friend and I a lesson in eating pho.
Here's my seafood pho. My mouth waters every time I look at it.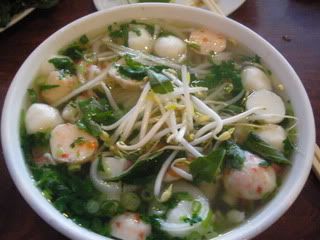 And our spring roll and the pho "accoutrements" on the side: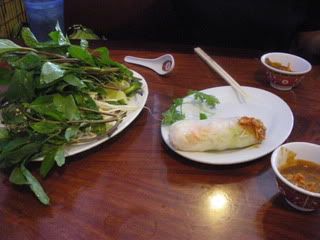 So this morning, I see a post on Twitter with a link to
"How to Eat a Bowl of Pho"
and referencing Pho 95. Another good post with delicous pics.
Tonight: something different--Mexican at Lola. Can't wait!