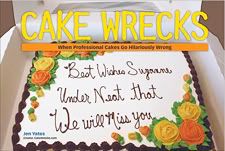 Jen Yates, the author of the very popular and very funny blog,
Cake Wrecks,
has a new book coming out called
"Cake Wrecks: When Professional Cakes Go Hilariously Wrong."
She will be at Tattered Cover in LoDo on Sept. 29 at 7:30 pm. Guests are invited to taste cake samples and participate in a cake wrecks cupcake contest. Info on the event can be found
here
.