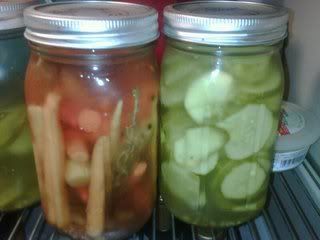 I pickled for the first time last weekend. I made dill pickles with regular ol' pickle mix from the grocery store. I needed to do something quickly with my cukes that I had to salvage from the great hail storm (more to come on that).
Earlier that day, I saw some beautiful carrots at the Boulder Farmers' Market: yellow, white, and purple. So I decided to try a recipe I'd seen in
Molly Wizenberg's book
:
Spicy Pickled Carrots with Garlic and Thyme
. This was the just about the last recipe that I thought I'd try from this book and it turns out it was the first one! I just couldn't resist those beautiful carrots and I was in a pickling mood.
So I'll be trying both sets of pickles this weekend and will report back on how they turned out. But for now I'm just enjoying how pretty they look in my garage frig next to B's keg of
Golden City Beer.
So why was I in a pickling panic? Well, we had the hail storm of all storms about a week and a half ago and it destroyed my beautiful garden. Our roof, a window, 2 screens, and a gutter need to be replaced, but I'm most upset about the garden, which now looks like vegetable slaw.
Just look at the carnage: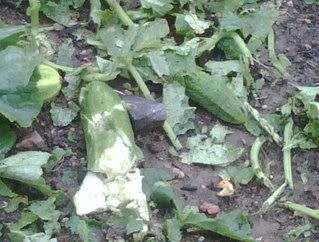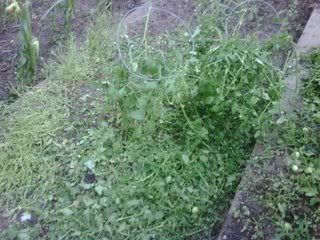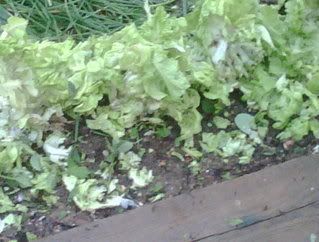 I salvaged what I could: about 5 cukes, 2 zuchhini, 2 yellow squash, and a couple of tomatoes. I might still get some tomatoes and possibly some zucchini, but for the most part the garden is toast. And it was my best one ever. Whah!