Yippee--the kids were away at the grandparents' cabin! B and I hit the town each night in search of the perfect wine bar.
First stop (Sunday night):
Jonesy's EatBar
. Not necessarily a wine bar, but a very good wine list. We actually went there for dinner. And I didn't even start with wine: I started with a "Rocky Mountain Sweet Tea" made with
Firefly Sweet Tea Vodka
, water, and a dash of
Leopold Brother's
Three Pins Alpine Herbal Liqueur (apparently they used to be in Ann Arbor--didn't know that until just now). What a dangerous drink! It tastes so much like regular sweet tea and not very alcoholic at all. I decided later that I wanted to make my own, and made the mistake of letting B talk me into buying another brand of sweet tea vodka that was on sale at
Argonaut
. Nope, you gotta get the Firefly. The stuff I got, although "handcrafted" is kind of nasty.
Here I am with my sweet tea, B's Breckenridge 471 IPA, and our Truffle Fries ("tossed with truffle oil & drizzled with truffle aioli"). Yum Yum. Pardon the crappy phone pic.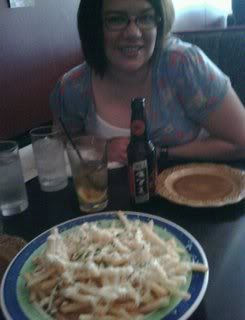 Now this
really
is a crappy phone pic. I had the Coconut Green Curry Mussels with red grapes & fennel. O.M.G. Absolute heaven. They were probably the best mussels I've had all year (and I've had some good ones). Spicy, a little sweet, and perfectly cooked. B had the fried shrimp po-boy sliders with shredded cabbage, tomato & spicy remoulade. They were decent, but didn't even compare with my mussels. For once, I won the menu lottery (B does far more often than me--I usually end up begging him for more bites of his, and being the wonderful husband that he is, he obliges).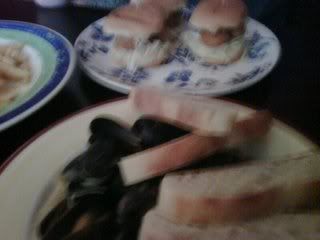 My main complaint about Jonesy's (and just about every place we went this week) is that it was ungodly hot (a rough combination with my mussels which were already making me sweat). This was the week that was the hottest so far this summer and pretty much every place we went to was without air conditioning. Not something I'd normally mind, since I usually prefer fresh air, but this particular week, I wanted my a/c. Jonesy's definitely should get a few fans at least for some air circulation.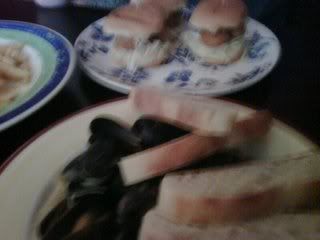 Since we were in the area and it was our first night sans kids we headed over to my favorite place for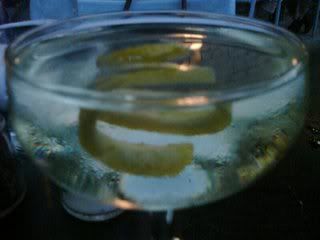 COCKTAILS!
Steuben's
, of course. We, as always, had fabulous service at the bar, but when we moved outside for fresh air, it did not fare as well. Oh well, the cocktails make me happy no matter what.