The next night we started off with dinner at
Osterio Marco
. Dinner began, of course, with their famous house-made burrata. It never disappoints.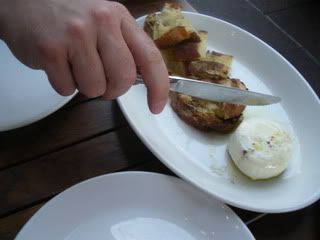 Look at that yummy cocktail garnished with basil: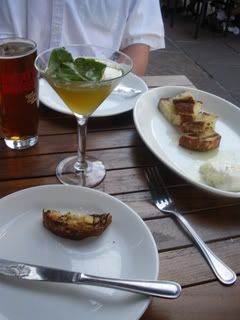 B had the house-sausage pizza and I tried the mushroom & asparagus orzo with parmesan fonduta & truffled arugula. Mine was good, but I should have stuck with several small plates, like I've done in the past. I prefer their antipasti and salume. The cheese in the orzo was a little overpowering.
After, we went across the street to
Cru Wine Bar
. I was surprised to learn that they are a chain, with locations in Denver and Texas. The walls are covered in handpainted "blown up" wine labels, which is kind of cool until you find out that they're really just advertisements and the wine distributors pay to have their wines painted there. Those "peeling edges" you see are painted, not really peeling. Kinda cool!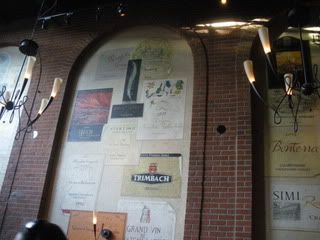 Our server was really nice and excited to talk about wine, which is always fun. I had the "Latin Affair" flight with two wines from Spain and one from Argentina. The wines were very similar and I would have preferred a more "progressive" flight.
All in all, it's a place I wouldn't seek out as a destination, but if I happen to be in the neighborhood (and that's fairly likely since it's in Larimer Square), I might stop for one glass.