We woke up super late and then hit the casino's buffet. God, it was awful. But at least it was only 12 bucks.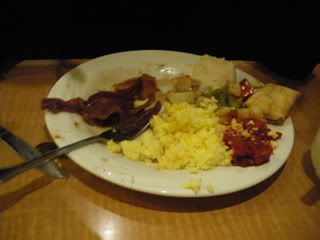 We gambled a bit--played a little roulette and the slots. Then we hit the town. We started with drinks at the Four Seasons poolside bar.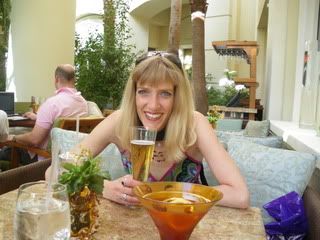 Also see drinky pic #4
below
. It was hot and snooty, so we just stayed for one, then hightailed it to Mandalay Bay to check out the sites and play some slots.
Then it was time for dinner at
Charlie Palmer Steak
.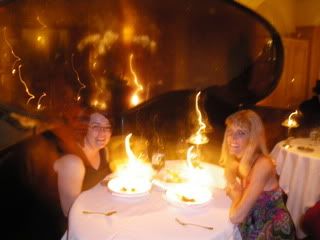 They were having a recession deal called "Sunday Supper:" $48 for 5 courses ($70 with wine pairings).
We started with an antipasti course of Genoa salami, Molinari Coppa, spicy zucchini, marinated mushrooms and olives, and baby fontina. This was paired with Scarbolo 2005 Pinot Grigio.
The soup course was "Early Harvest Corn Chowder" with Oregon morels, bacon lardons, and fingerling potatoes. This was probably my favorite dish of the evening. It was paired with Rayon 2005 Blanc de Morgex.
The pasta course was "Granora Orichiette" with housemade pork sausage, sweet peas, and broccoli rabe. This was also very good. It was served with Castello di Montastero 2005 Chianti Classico.
The entree we chose was yellow fin tuna with acqua pazza braised cannelini beans, balsamic glazed mushrooms, and Yukon Gold potato puree with roasted garlic. This was paired with Movia 2003 Tokai Friulano from Slovenia.
The dessert was chocolate souffle with pistachio ice cream.
The portions were ridiculous. Each dish was the size of a full entree at another restaurant. It was disappointing to leave so much food on my plate! The service was also very slow. I could tell they did this on purpose. I'm all for lingering over a long meal, but I would prefer that it be on my terms, not the restaurant's. Plus it was just absurdly slow. Also, the place is too dark, as you can tell from the picture above, which did not turn out well. I didn't even try to take pictures of the food, because of the dark. It's a very masculine place, as you might expect from a steakhouse. The meal was quite good, but not outstanding. We greatly preferred
the meal at Daniel Boulud's
(which was also cheaper).
After, we went back to Parasol Up, Parasol Down at the Wynn, because we hadn't been able to see the light/water show the previous evening. We got the best seats right by the water and I had a glass of the same Sancerre we'd had the night before (still trying to find out what it is!). The show is about every 20 minutes and very amusing. There are projections on the waterfall, head shaped video screens that pop up out of the water, and colored balls that move and dance on the water.
Here's the head. Note that it is a separate video screen in front of the waterfall behind it.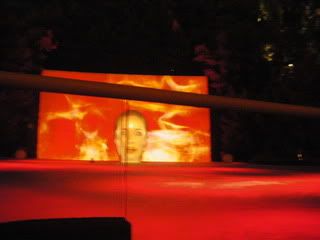 And here are the lights in between the show. I loved the pink ones--it made the trees seems Dr. Seuss-y.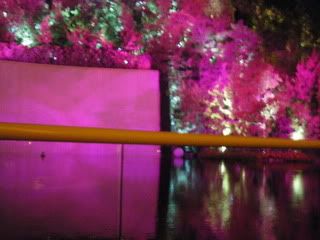 We then went back to the hotel, where I finally had to drag Erika away from the slots.
So that's Vegas! The highlights anyway. So what are going to do for Bitchapalooza 2019?