The Toledo trip is long gone, but I should post a little something. The trip was wonderful and a whirlwind--one of those trips where you don't have enough time to spend with anyone, before you need to run off and see someone else. Fun and exhausting.
On the food side of things, we hit the hot spots (i.e. the main places we wanted to hit, although we could have done so much more...).
I had the Chili Mac at Tony Packo's--a chicken version, new since I was last there.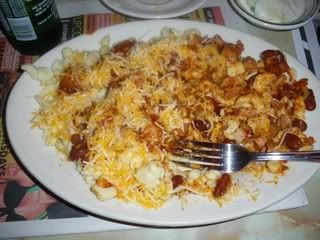 As B would say, "Maaaa, I need a new plate. Somebody puked on this one," (semi-quoting Calvin and Hobbes). But ya know, sometimes those kinds of plates are the tastiest. I used to have a friend that called food like this "dumbass." And this was definitely a plate of delicious dumbass. Not shown are the huge mound of spicy pickles I ate, regular and fried (mmmmmnggggg....fried spicy pickles....)
We ate at Kotobuki: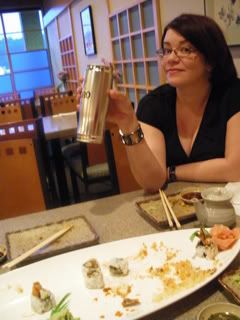 I have a better picture of the boat pre-decimation with my lovely friend Phoebe, but since I don't have permission to post her pic, you'll have to go to Facebook to see it. I was so ridiculously excited by the gomae, that I gobbled it up before I got a chance to take a picture of it. And, in the picture above, you can see a little bit of the disappointment in my eyes that this is the biggest can of Sapporo they now serve. They used to serve a mini "keg" of it. I think maybe Sapporo doesn't even sell it now, because I couldn't find a picture of it online. Anyway, we used to go with a group and no matter the size, we'd get the "big beer." Fun times!
The sushi was good, but not as good as I recall. I was disappointed to see that they have succumbed to the non-traditional, what I call "cheesy super americanized" rolls (and what they call "
special rolls
.") Sniff. Now I can't say that Kotobuki is better than Sushi Den or Sushi Sasa.
Beirut was awesome. No pictures unfortunately--too busy eating. I want their baba ghanouj and Lebanese garlic bread to be the last thing I eat on earth, I think. J (my 5 year old) entertained us (i.e. embarassed us) by standing up at the table, pulling up his shirt, and saying "Boys have bretzles too. They're just little." God love him.