We left off yesterday with the
beginning of the second day at the pool
. Considering how late we got up, this took the majority of the day time hours.
We had early reservations for dinner at
Daniel Boulud Brasserie
at the
Wynn
. Right now is a great time to go to Vegas (if you can afford it) because of all the recession deals. The restaurants at the Wynn are offering prix fixe menus called
Taste of Wynn.
You can see the one for Daniel Boulud
here
.
The Wynn is absolutely gorgeous. For example, one of the "gardens" inside:
We started off with drinks at
Parasol Up, Parasol Down
(the down part).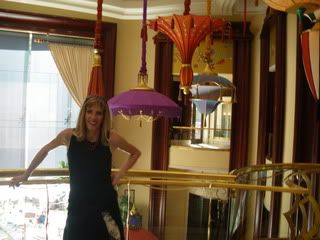 Or you can see drinky pic #3 in the
previous post.
We had an excellent bar tender, who reminded us of someone we'd hang out with.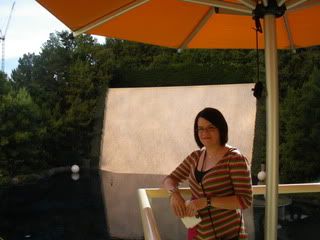 We ordered the three course menu and a bottle of Sancerre. The sommelier was so freakin' delicious and Erika made him blush, haha. She took a picture of him, but it didn't do him justice. Thankfully, she also took a picture of the Sancerre's label, because it was amazing and I can't find it online or remember it right now. But I have to get it.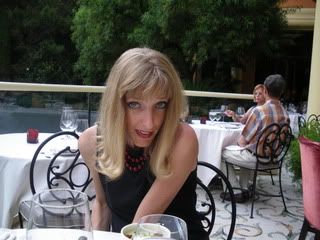 I started with Country Pâté with homemade pickles and farmer's bread and she got the Artichoke Velouté with brioche crouton and basil oil. I had just a taste of hers but it was great. Look at my beautifully presented plate (and it tasted as good as it looks):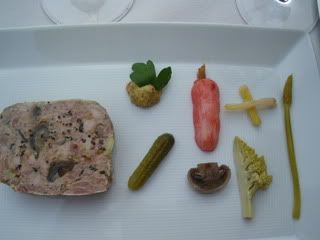 We followed it up with the Moules Frites with bacon and crème fraiche for me and the Scottish Salmon with Asparagus, meyer lemon, and brown butter for her. Look at the colors in my dish! The fries were awesome too, perfectly dressed with vinegar.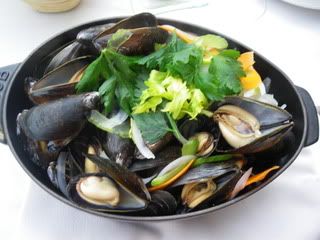 The third course was to be dessert, but we had lingered too long and were running out of time before our show at the Mirage. So they kindly allowed us to cancel the third course. Thank goodness we did, because they already had special dessert plates for us since I had told them we were celebrating our 40th birthdays when I made the reservations.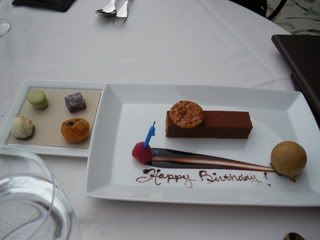 The food was outstanding and the service was excellent. Although I'm not sure our female server appreciated our flirting with the male sommelier and her assistant, as we somehow ended up pretty much being served by them.
By the time we were done, we were seriously running late. We literally ran from the Wynn to the Mirage, where we were going to see
Cirque du Soleil's Love
.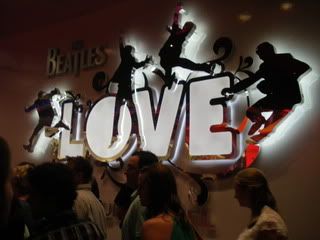 Here's a picture earlier in the day (not during our mad dash):
Our timing was perfect. We sat in our seats and I swear the second my butt hit that seat, the lights went down. We didn't even have time to pee or (gasp!) get a drink. The show was absolutely amazing. I must admit I always had it in my mind that Cirque du Soleil was cheesy, but this was the best (non-band) live performance I've ever seen. Absolutely riveting and a blast. And our free tickets that came with our hotel/flight package were great seats. You can see videos of the performance
here
. So I'm now a CdS convert and am looking forward to the next time I get to see a show (although I'm not particularly interested in the Koozi show coming to Denver soon).
After, we hit the strip checking out the Vegas extravangas like the Bellagio fountains and horrid pirate show at Treasure Island. Here's a pic outside Cesars: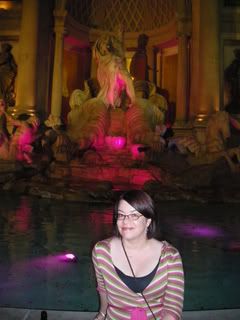 We ended up at a
tequila bar in TI
. Apparently it's part of the group that also owns restaurants like
Zengo
in Denver. Had some good tequilas.
We hit the Peppermill and Fireside Lounge much later for omelets and drinks (a wonderful combination). Wow, that place is cheesy: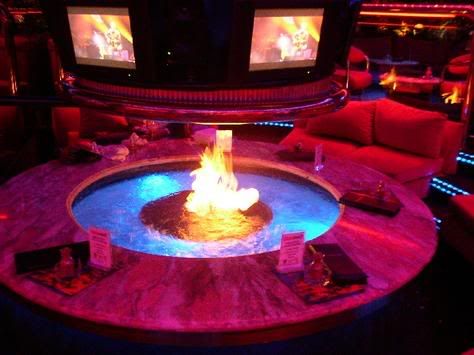 The waitresses all wear long cocktail dresses and are eastern European. Our neighbors were a scary young meth-ed out type with a much older man who was supposedly wheeling and dealing on the phone (at 3 in the morning) to buy her a car. It was an...experience.
We walked back at our hotel, and for some strange reason, at 4:30 in the morning, "Sluts of Fun" is absolutely hilarious.