On Tuesday of our week with no kids, I met B at
Caveau Wine Bar
for their happy hour. I had taken the day off and celebrated with a massage at Massage Envy, which turned out to be a mistake. The masseuse coughed and hacked through the whole thing, claiming she had just eaten something peppery. I should have left, since it was uncomfortable, gross, and not even a little relaxing, but I was too chicken. So I was needing a glass of wine. (Who feels like that post-massage?)
Caveau has a nice wine list. Again, it was mighty hot that day and the place was blistering. I noticed they didn't have many wines in their racks--they were all in the temperature controlled coolers. We also shared the meat and cheese plate, which had 3 meats and 3 cheeses.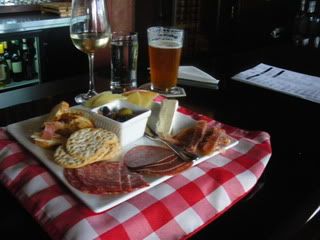 We later headed over to
D Bar Desserts
, since it was just down the street. They have a small, but good wine selection. We sat at the bar and watched owner Keegan Gerhard make something delicious, actually painting with chocolate. He was teaching a woman his techniques, which was interesting to watch. The place is definitely an homage to him with Food Network shows playing on a television screen and a digital photo frame displaying his works.
We weren't terribly hungry and I mainly wanted dessert, so I had a watermelon salad and B had the recommended baked mac & cheese made with four cheeses, cheese nips, & panko crumbs. I heard Gerhard tell another person at the bar that the cheese nips were to give it a Kraft mac'n'cheese-like taste.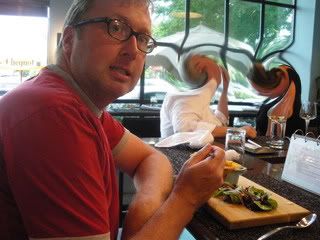 So then dessert, what we really came for. We started with their famous "Cake and Shake," choosing vanilla on both sides.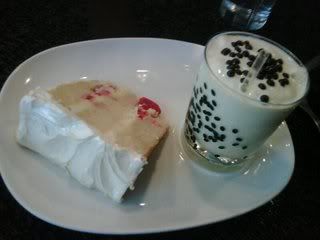 It definitely lives up to the hype. I especially enjoyed the shake with the little malted milk balls.
But I thought the ice cream sandwich was even better.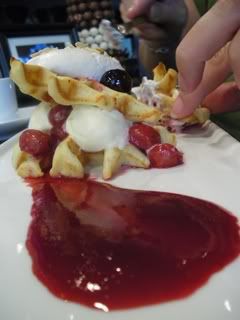 They start with homemade waffles with rock sugar baked right in. And they make the waffles when you order it--they're not premade. They top it with vanilla ice cream and the most heavenly smelling 3-cherry compote. I thought I was going to keel over from the smell of the cherries cooking. It's fun to watch your dessert made to order right in front of you. Talk about making your mouth water! Then they top all that with amaretto cream.
The young man making our ice cream sandwich said he works at D Bar only once a week and works at a sushi bar the rest of the time. I thought that was an interesting combination and you could see a sushi-like attention to detail in his dessert.
My sister is really into baking and desserts and probably should have been a pastry chef. I can't wait to bring her here.