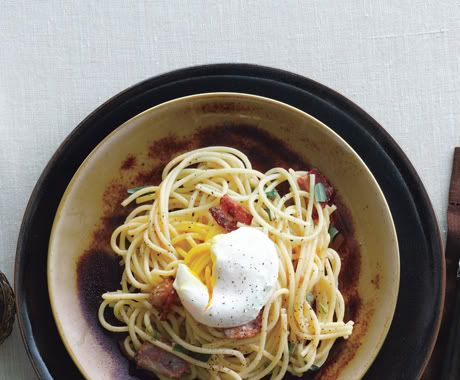 I tried this dish from the second to last issue of
Gourmet
(sniff!), because I was in the need for some comfort food and I needed something for which I had all the ingredients on hand. It was super simple and very hearty and yummy. B really liked it too. I will definitely be adding it to the repertoire--especially the winter one.
I've doubled the ingredients to make it serve 2, since the original recipe is for 1 (weird!).
Peppery Pasta Carbonara with Poached Egg
4 bacon slices, cut into 1-inch pieces
1/2 pound spaghetti
1 tablespoon unsalted butter
2/3 cup grated Parmigiano-Reggiano plus additional for serving
2 to 4 tablespoons chopped tarragon OR ~2 teaspoons dried tarragon (can use parsley too)
2 - 4 large eggs, depending on how hungry you are (The original recipe called for 1 egg per person. There was a lot of pasta and we were hungry, so we ended up making 1 more for each of us.)
Cook bacon in a 10-inch nonstick skillet over medium heat until crisp. Transfer bacon with a slotted spoon to paper towels to drain.
Meanwhile, cook spaghetti in a 4-quart saucepan of salted boiling water until al dente. Reserve 2/3 cup cooking water, then transfer spaghetti with tongs to a small bowl, shaking off excess water, and keep pan of water simmering.
Pour off all but 4 teaspoons bacon fat from skillet, then whisk butter into fat in skillet over medium heat. Add spaghetti, reserved cooking water, cheese, and a rounded 1/2 teaspoon pepper and cook, stirring, until sauce is thickened and almost completely absorbed, 2 to 3 minutes. Add bacon and 1 - 2 teaspoon (if using dried - 1 tablespoon if using fresh) tarragon and toss. Season with salt and pepper.
Break egg into a cup and gently slide into water. Poach at a bare simmer to desired doneness (Gourmet says, "we prefer a firm white with a runny yolk, 2 to 3 minutes" and I do too!).
Serve pasta topped with egg (transfer using a slotted spoon). Sprinkle with remaining tarragon if desired.
Above is Gourmet's beautiful picture, because mine, while yummy, was kind of ugly. Comfort food doesn't have to be pretty, does it?