It's embarassing how long ago I had this meal (hint:
First Bite Boulder
), but it was a meal worth posting anyway.
We decided to trek to a far, far away land called Longmont. While it was a trek, it was also fun to take a mini "trip" for the evening.
Terroir
focuses on local, seasonal ingredients, so the menu probably changes regularly. While many of the dishes below were available on the regular menu at the time, they aren't now, although there are some dishes that are similar. I went with the recommended wine pairings with the dishes and they did well with the pairings.
For our first course, B had the blue cheese gnocchi made with White Mountain Farm potato, moucou creamy blue, and rosemary. The blue cheese was not over-done and this was our favorite of the starters.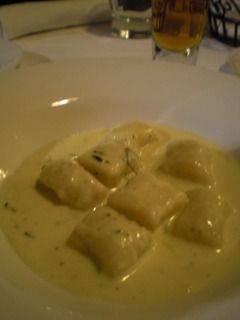 I had a beet salad made with "My Momma's Hat" beets (how cute is that name?), Haystack Mountain fresh chevre, candied walnuts, Oxford Garden greens, and a beet vinaigrette. If you love beets this is the salad for you. To me, beets are okay, but just okay. I try them on a regular basis to see if I can figure out the fuss, but I still haven't. This salad was very "beet-y" and was decent, but didn't thrill me. I thought it was a bit over-dressed too. But it was definitely a beautiful salad with the red and gold beets and red dressing.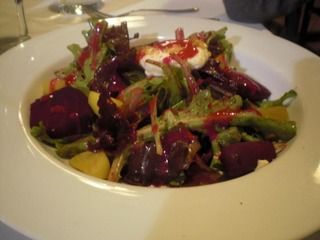 My main was the hit of the night--for me at least--it was a bit sweet for B. I tell you, I am still dreaming of this dish. If I ever see it on their menu again, I'm making the trek to Longmont. It was maple-glazed duck confit with spaetzle, Long Family Farm bacon, and brussel sprouts. Heck, even the brussel sprouts were tasty! That can be difficult. Unlike B, I did not think the dish was too sweet. Everyone knows bacon tastes great with maple...yummy salty sweet goodness...but don't think there was anything breakfasty about this dish. It was a hearty and filling true "dinner" dish. I practically stuffed myself trying to eat every morsel, it was so good. If we hadn't been in public, I probably would have licked the plate.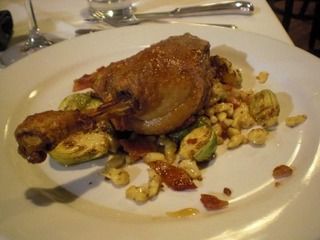 B had the River Ranch oxtail ragu with house-made papperdelle, winter greens,and gremolata. This also was a nice, hearty dish for a cold winter night (which it was).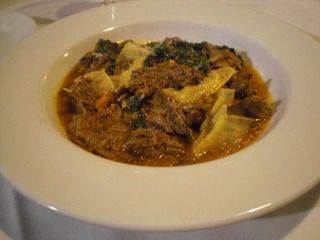 For dessert we had lavender crème brulee, which I really liked. Lavender in a dessert can be overpowering, but this was just the right touch--the lavender really stood out without tasting like a Crabtree and Evelyn soap. We also had a toasted coconut semi freddo, which really did not excite me, but wasn't bad. If they had added some dark chocolate, it would have tasted like an Almond Joy and that would have done it.
There were several hits and no true misses, so if you're up in the Longmont area, I would definitely recommend checking Terroir out.