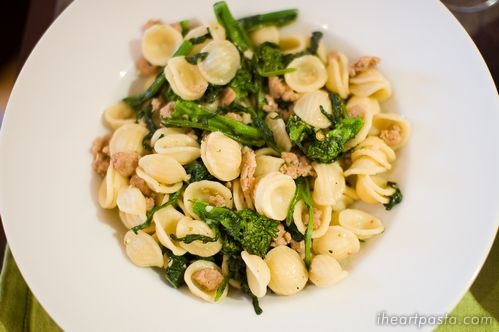 Orecchiette with Rapini, Sausage, and Garlic Crumbs
This dish was a huge hit in our house!
I get a weekly delivery from
Door to Door Organics
, a company that delivers organic food to your house. It's kind of like a CSA, but of course, in the winter, you're not getting much local food. They do try to do local as much as possible. It's fun to try cooking with new vegetables. This last week I got rapini or broccoli rabe, which I've eaten but never cooked with before. I searched the internet and found this recipe, which is going to stay on our regular menu rotation.
For garlic crumbs:
2 cups fresh (not dry) breadcrumbs (made from approximately 5 slices bread)
2 cloves garlic, finely minced
3 Tablespoons olive oil
For meat sauce:
4 sweet or mild Italian sausages, casings removed
1 Tablespoon olive oil
1 clove garlic, chopped
½ to 1 teaspoon red pepper flakes, to taste
1 bunch (about 1 lb. / 450 grams) blanched rapini, chopped into 2" pieces
Salt and fresh ground pepper, to taste
½ cup freshly grated parmesan cheese
1 (500 g) package orecchiette or penne
To make garlic crumbs:
Heat olive oil in a skillet. Add garlic and sauté on medium heat for about 20 seconds. Add breadcrumbs and stir until all crumbs are coated with oil.
Sauté crumbs on medium heat, watching carefully, until they turn brown and crisp. Remove from pan and set aside. Crumbs can be made in advance and kept in a dry, covered container.
To blanch the rapini:
Bring a pot of salted water to a boil. Boil rapini for 4 minutes and drain. Plunge rapini immediately into a bowl of ice water to stop cooking.
To make meat sauce:
In a deep skillet, heat olive oil. Add garlic and red pepper flakes and sauté on medium heat for about 25 seconds. Add sausage meat and break meat up with a spatula or spoon.
Cook sausage meat until browned and cooked through. Add blanched rapini to the pan and sauté for about 2 minutes.
While meat is browning, cook pasta according to package instructions. Drain, reserving 2 Tablespoons of the cooking water.
Add drained pasta to the meat and rapini mixture and reserved pasta water. Stir together until all ingredients are evenly combined. Add garlic crumbs to pasta and toss to coat. Add a drizzle of olive oil if the pasta seems dry.
Season with salt and pepper and serve with grated parmesan cheese.
This made quite a lot, so at first I added only half of the bread crumbs to half of the pasta. That way the breadcrumbs didn't get soggy for leftovers.