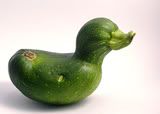 Zucchini Latkes
The zucchini have started producing and it's going to be a bumper crop this year. Friends and family: you know they're comin' at ya! As always, I am on a never-ending search to use these fertile critters. I found a recipe for zucchini latkes that I'd clipped from who knows where, but didn't have most of the ingredients. Switched a ton of stuff out, made changes here and there, and voila! What turns out to be my favorite dish of the summer so far.
1 C shredded zucchini
1 large egg (2 if they're smaller, or batter seems dry), beaten slightly
~ 2 T minced shallots
3 T flour
1/2 C corn (I used frozen, but fresh would be better)
1/2 C bread crumbs
salt and pepper to taste
olive oil
That's it! These were sweet and savory and all around delicous.
Just mix the ingredients. Coat your pan with olive oil and heat on medium. Form the latkes into patties about 1/2 inch thick and fry on both sides until golden brown, turning once.