This weekend we went downtown for the
Parade of Lights
. The parade was extra lame this year. There were a couple of instances when there was up to 15 minutes between floats! What's up with that? The person in charge of organizing the floats, etc. should be fired. The crowd, and especially the kids, got really restless.
Before hand, we went to
Marco's Coal Fired Pizza
, which I've been reading such good things about, and it was tasty. They gave the kids pizza dough to play with, which is always a fun touch.
The boys shared a Margherita pizza (Fresh Mozzarella, Pecorino Romano, San Marzano Tomato Sauce, Fresh Basil and Extra Virgin Olive Oil) without the basil, upon recommendation from our server, when we asked him what picky kids like.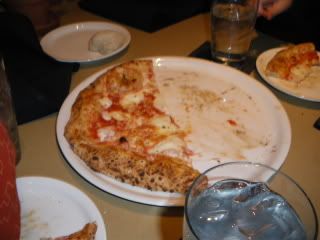 J liked it: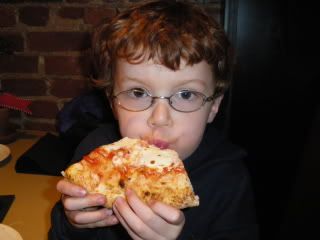 but M wasn't too thrilled about it. Hey, if it's not a Red Baron 4 cheese frozen pizza, he's not happy. Little stinker.
B and I shared their famous coal-fired chicken wings (served with grilled onions and
focaccia bread). They're lemony and delicious. I'm not a huge wing person, but I really liked these. We also shared the Toscana pizza (Fresh Mozzarella, San Marzano Tomato Sauce, Topped with Arugula, Grape Tomatoes, Prosciutto di Parma, Gran Cru and Extra Virgin Olive Oil). Very tasty!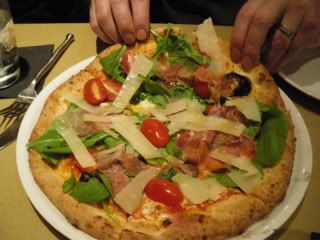 It was a fun place to have a great pizza and some good wine or beer (I had a glass of Cara Mia Prosecco and a Stella) that you can actually take the kids too. We'll be back again, I'm sure.