All of our sitters are on Spring Break, so we're risking take the boys out tonight and are hitting
Firenze a Tavola
. I've heard great things about the more casual upstairs restaurant, Parisi, but had never heard of this one until recently.
The menu
looks great.
We plan to make sure the boys are not hungry when we get there and we have an early reservation. I called the restaurant and they said they were welcome.
We also are having a small dinner party on Saturday and I'm doing fondue for the first time. I figure I can always order pizza if it's a disaster! Luckily, they're close friends and we're all casual.
The weather has been so warm this week, and I've been able to enjoy
Golden City Brewery
, the "second biggest brewery in Golden," twice. Once in the evening with B and the boys, and once for lunch, combined with a yummy Hopping Turkey sandwich from
Golden Natural Foods
next door. The Hopping Turkey has turkey, cream cheese, sprouts, and red pepper raspberry jelly: yum. The IPA at GCB is great, but I really like the red too. B is disappointed that he can't get kegs of IPA for his kegerator. Apparently, it's so popular that can't make enough of it to sell it in kegs. So he has to settle for the brown or red. Poor baby. The boys love going to GCB because there's a wooden train for them to play on and we always let them get a grape soda.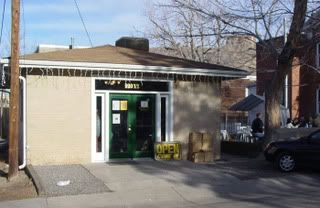 The place is about as casual as you can get. A little house where they brew and sell the beer and a back yard with picnic tables. There's the train to play on and there are usually a lot of little kids and/or dogs. Often, there's a group playing guitar at their table. We've also been serenaded by the brewer at closing time (7 pm). They sell pizza and pretzels and I'm not sure what, but it doesn't look that great. Thankfully, however, they allow you to bring food in and we've brought in some good cheese and cured meat spreads before. Delish with the beer!