Friday night we got an unexpected chance to have a sitter and grabbed it. It turned out to be fortuitous because B got a big raise earlier that day. And he works for a company that "
isn't giving out raises this year."
With the way things are going at my work, this was extra fabulous news. So we needed to celebrate.
We went to
Duo Restaurant
in the Highland neighborhood of Denver. I'd heard and read mixed reviews of this place, but our experience was completely fabulous.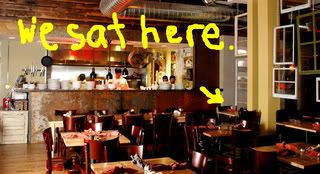 I started with an "April Showers" cocktail, a Beefeater's gin martini with Calvados and a candied rose petal. The petal was surprisingly tasty. They start you out with cracker-y flat bread and mixed olives (2 kinds). One of the olives was a very bright green and really light tasting. I don't know why I didn't think to ask what kind it was. I'd love to get some. I'm lucky that B doesn't like olives, because I got them all. The olives were in olive oil with fennel seed for flat bread dipping. Again, B doesn't like fennel seed, so I got it all, haha.
ETA: I found a picture of those bright green olives on Culinary Colorado's blog
here
. Now if I can only find out where to get them.
For an appetizer, we shared the Duck Confit with a potato pancake and apricot mustard. The duck was a little dry and the pancake a little greasy, but it still tasted very good. We both really liked the apricot mustard.
B got the Parmesan Chicken: free-range chicken served with a caper lemon sauce and a potato, bacon and watercress salad. It was very good. The bacon was a delicious addition and it was the good, thick-cut stuff.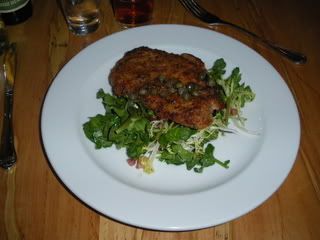 I had the Mahi,baked in a thin pastry with a garlic herb pistou and served over a saute of leeks, baby carrots and potatoes. Oh. my. gah. It was so good. I'm still dreaming of it. I think it had cabbage too. Or maybe it was the leeks, who knows. But when I like the vegetable even more than the fish (which was amazing), that vegetable is goooooood.
I had a glass of Inama Soave Classico from Garganega, Italy with the mahi. An organic wine, according to the menu. The smell was so sweet, but the taste was very light.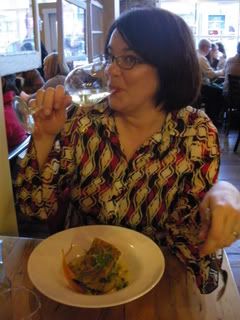 For dessert, we shared the Warm Pineapple Coconut Tart with pink peppercorn ice cream. I had to taste this ice cream! I really enjoyed it, but B wasn't too sure about it. My only complaint is the peppercorn flavor I burped up the rest of the evening--odd, indeed! I had a glass of muscato with the tart. Mmmmmm...
After, we checked out
Billy's Inn
. For some reason, I thought it was more of a bar, but it's really more of a restaurant. We just had one drink at the bar. It was busy and an older, "yuppie-ish" crowd (are there yuppies anymore?). Also, too well-lit. I was kind of hoping it would be more dive-y, but it was still fun.