With all of the grandparents visiting in the last few weeks, B and I got a much needed night out on a Tuesday a couple of weeks ago. We went to
Rioja
for the $15 "Sips and Snacks," which consisted of 4 "sips" and accompanying "snacks." It was "Pinot Posse" night and different than the one I thought it would be in my previous post.
Here are our "sips." How fun to have a table for two swimming in wine glasses.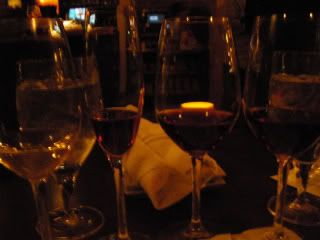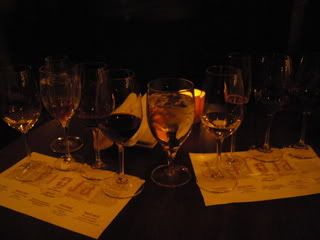 We started with pinot gris from Left Coast Cellars (2005) paired with a bite size piece of fish and apple mignonette (they were out of the oyster on the half shell advertised on the menu).
Then NV Segur Viudas Aria Brut Rose paired with a pork fennel sausage meatball, pesto, and goat cheese.
We then had a
very
light red: O'Reilly's 2007 Pinot Noir, paired with king oyster musthroom veloute, fennel-shallot salad, and dill vinaigrette. This stuff was so thick it was hard to get it out of the shot glass it was served in.
Last, we had the 2006 Emeritus Pinot Noir paired with brussels sprout pancetta compote with port wine poached chestnut puree.
Here are our lovely snacks: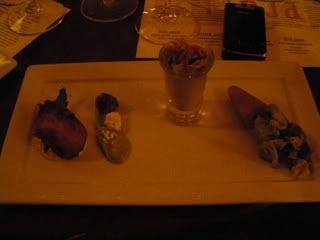 Our appetites were just whetted after this (even though we'd already had dinner). These snacks were bite-size, amuse bouches really, so they just made us want more. So we ordered an appetizer to share: the gorgonzola naturale: organic farmstead gorgonzola with a house made black mission fig newton, shaved smoked prosciutto, micro arugula, and red wine reduction. I don't think I've ever had micro arugula. I think I need to try to grow some. I "paired" this with their "lemon quencher" cocktail: house made lemoncello, Bombay gin, gingerale, cava sparkling, and a lime squeeze.
Oh, OH! And I almost forgot their incredible bread: I had one with fennel and maybe lavender? OH my...
Everything was great. This was my first experience at Rioja. I'm now hoping we get to eat a real meal there soon.