More recently, another ethnic restaurant opened up in Golden,
Empanada Express Grill
, which serves Venezuelan food. It's a tiny little restaurant on the end of a strip mall, and it was soon packed after we got there.
I first heard of it on
Westword's Cafe Society
. Apparently it used to be in a trailer and recently graduated to a more permanent home. I haven't had much in the way of Venezuelan food other than the americanized version of an empanada. But the flavors are familiar and I think even my kids
might
like the food--corn cakes, beans, plantains, cheese, etc. The food is inexpensive too. I got the most expensive thing on the menu, the "Taste of Venezuela" so I could try a lot of different things, and it was still only $10.99. You could eat a nice sized meal for $7 or so.
I broke my camera this week, so all I had was my blackberry. I think the Barbara Walters "soft light" effect is due to some lint on the lens, haha. If you know of any good deals on small, but decent quality cameras (I need one that I can carry in my purse at all times), let me know.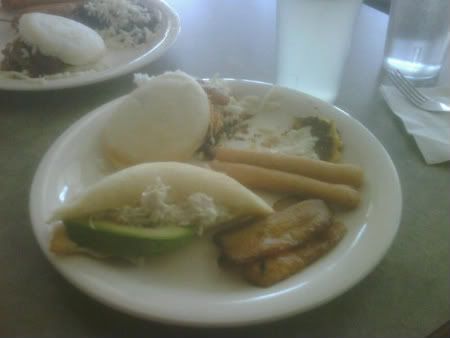 On this plate, you see clockwise from top: an arepa, a cachapa, two tequenos, some fried plaintains, and an empanada.
Empanadas are shaped like a turnover and made of corn meal. They let you choose any of their numerous fillings for the combo plate. I got the Reina Pepiada filled with white cheese, chicken salad and avocado. Arepas are also made of corn meal, but are circular corn cakes sliced in half and filled to make a sandwich. I got the La Gallina filled with shredded chicken, black beans, white cheese and sweet fried plantain. They were both good, but I definitely preferred the gallina over the chicken salad.
Tequenos are wheat flour dough sticks surrounding a melted white cheese center. Cachapas (Arepas De Choclo) are a Venezuelan pancake made with sweet kettle corn and served with melted cheese and butter.
They also serve fresh juices and I got the lime juice, served like a limeade. It was sweet, sour, and delicious. Definitely worth the $3. Unfortunately, they don't have a liquor license. The food would be so good with a beer!
I hope to return soon, explore the menu some more, and hopefully get some better pictures.