Just random thoughts on two food products I'm obsessing over these days. And they just happen to be local.
The first is
Chocolove
's (from Boulder) Almonds & Sea Salt in Dark Chocolate bar.
At Christmas, a coworker gave me a Chocolove bar with cherries and almonds. It was great. So when I saw chocolove bars on sale at Vitamin Cottage I picked up some of the other flavors, the aforementioned obsession and one with crystallized ginger in 65% dark chocolate. That one could become an obsession if the almonds and sea salt one didn't exist. OMG, just enough salt to make the dark chocolate seem even richer. It is SO good.
My other obsession is
Noosa yoghurt
, also from Boulder.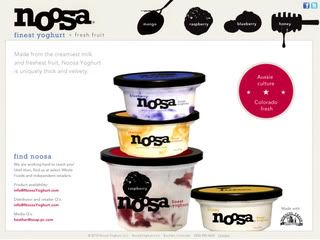 And I'm not just saying this because
5280 Magazine
just featured this as their obsession this week. I discovered it last week when I visited the relatively new
In Season Local Market
in Highlands--a very cute (VERY small) market that only carries local products. This place is about the size of a closet! I got one container of the Noosa raspberry yoghurt and the next day had to track down some more. Luckily my Whole Foods carries it. Yogurt doesn't usually excite me, but this stuff is incredible! It's really thick and tastes more like a pot de creme or something. I've tried all 3 flavors (that I could find) and love them all equally.
So run out and get both of these products, if you can. I'm not sure you can get the yoghurt outside of the Denver area, but you can order the Chocolove online.