The first night of
Denver Restaurant Week
we went to
Rioja
. Their DRW menu featured many of its regular items, but some with an upcharge. I started with some kind of pear/almond cocktail that was thick, since it had pear puree in it, but was delicious. They brought around their bread. One thing that Rioja does especially well is homemade breads and crackers. A server brings around a large basket of bread with several choices. I had the lavender sourdough and goat cheese-rosemary bread. I LOVE that lavender sourdough. I mentioned it before when I posted about
Rioja's Sips and Snacks
. I'm afraid I did not get pictures, so here is one from
kevinEats
.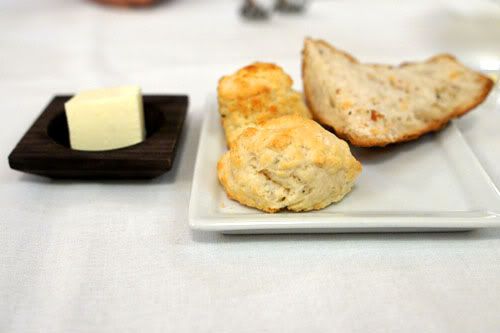 For our appetizer, we got the Rioja "picnic" to share--a trio of artisan meats (prosciutto, soppressata, and salami if I remember correctly), gorgonzola, olives, almonds, truffle fennel salad, orange confit, and sweet goat cheese balls with pine nuts that were battered and fried. It came with homemade crackers. It was all delicious, but the salad, confit and goat cheese balls were out of this world. It's an appetizer for two and quite filling. I love me a meat/cheese/ snack plate and this one was exceptional. Here is a picture from
Meal Makeover Moms
.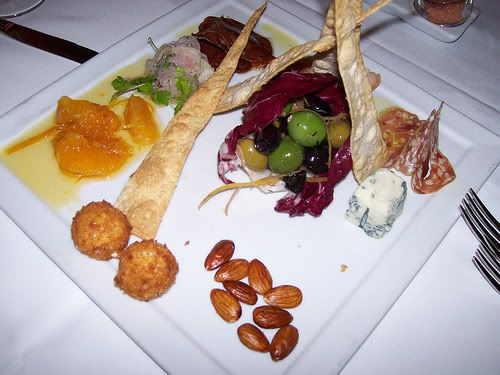 Before I get to the entrees, let's talk about dessert. You got to choose one dessert to share for their DRW menu (I don't know what they do if only person orders the DRW menu). We got their famous beignets--sweet goat cheese and black mission fig filled pastries served with a ruby port wine reduction. These beignets were on Denver Magazine's "
100 Things You Must Eat in Denver
" and rated the highest of that list on
Must Eat Denver
. Here is the latter's picture: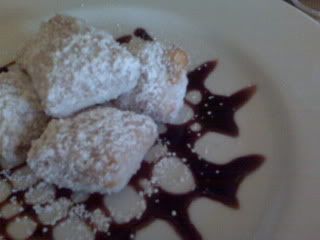 They definitely live up to the hype. Oh my, the texture. They literally melt in your mouth--it's not just a cliched saying in this case. They have a light crispy outside that starts melting away almost as soon as you put them in your mouth, revealing the sweet goat cheese. There is not an overpowering figgy taste. The figs just add a little more sweetness to the beignet. I swear their little pillows of heaven and may be one of my all time favorite desserts. My only complaint is that there were only 5 in the serving and that wasn't enough to share! If you go this week, order an extra one. You'll be glad you did.
For our entrees, I got the Muscovy duck breast with saffron manchego risotto, pistachio pine nut stuffed Medjool dates, a saffron almond cracker, and spiced citrus jus for a $7 upcharge. I was so looking forward to this and was so disappointed. Everything on the plate was amazing, except for the duck, and sorry, but the meat of your entree is kind of an important part of the meal. The duck was ridiculously tough and chewy. I couldn't cut or chew through it and finally gave up on it (I was afraid it would fly across the room while I tried to saw through it! BTW, Rioja, you need sharper steak knives). The risotto was great and tasted comfortingly like cheesy rice a roni, haha, and I mean that in a good way. The pistachio stuffed dates were sweet and nutty and I would love to try to make something like that for a party appetizer someday. The cracker was so good. And I don't usually get excited about crackers!
B had the Colorado lamb two ways for a $4 upcharge: grilled t-bone, house made lamb merguez sausage, crisp couscous pillows, caramelized fennel, tomato coulis, and preserved lemon yogurt. He was also disappointed. The sausage and couscous "pillow" was very good, but the grilled t-bone was gristly and also hard for him to cut. Bummer! This dish was pictured in the
Denver Post article about Rioja
recently: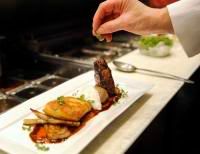 Because the entree meats were so disappointing, we can't help but wonder if they used lower quality cuts for DRW. Or maybe we just got unlucky. Perhaps we have "sucker" stamped on our foreheads? I'm kicking myself for not saying anything. I don't know what I was thinking. So really I'm to blame as much as the kitchen.
But for that complaint, we still had an incredible meal. Everything else was so outstanding, including the service, that it more than made up for the one downside. The rest of the food really was ridiculously good.
I must add a little side note too. Prior to Rioja, we stopped in at
TAG
next door for a quick cocktail. They were busy, but there was room for a bar. They have the most amazing mise en place for a bar that I've ever seen (Is that term used for bars too? I think so). Check it out: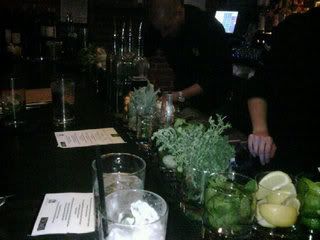 They had numerous fresh herbs, like thyme, cilantro, mint, etc. They had homemade tonic and grenadine; Little droppers of homemade bitters; and who knows what else. It was gorgeous and so cool! Our bartender was incredibly nice about all my questions and even explained how to make tonic, since I noted that I didn't realize real tonic is not clear and bubbly. To make it, basically you take a bunch of herbs and citrus juice, boil it up, and strain it, and add some sugar.
Here's
a recipe I found on the web. I don't know how close it is to TAG's recipe, but it'll give you an idea of what I'm talking about.
I had the Full Monty with gin, brandy, lemongrass/coriander syrup, and lemon. It was garnished with a cucumber slice and the bartender carefully placed some coriander seeds on the slice with forceps. So pretty! And delicious, of course. The bartender noted that this drink will be (or has been?) entered in a Hendrick's gin contest. I can see it as a winner. I definitely can't wait to go back to TAG for more than just drinks.
Postscript: The great thing about a restaurant like Rioja is that it's so popular people take pictures of their food and post them on the web. Thanks to all whose pictures I used. I'm never sure of the etiquette of using other pics on the webs, but if any site owners have a problem, let me know and I'll take them down. I enjoyed reading all your posts.