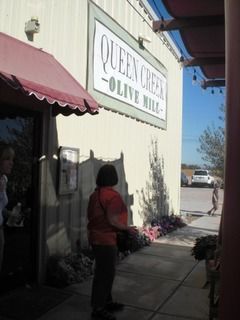 My parents winter in Mesa, Arizona, since their WY cabin is too far off the grid to inhabit properly (or pleasantly) in the winter. We recently visited them and they took us to
Queen Creek Olive Mill
, Arizona's only operating olive farm and mill.
There, they have--in addition--to the farm and mill--a snack bar and shop. The snack bar,
del Piero at the Mill
, was really quite special.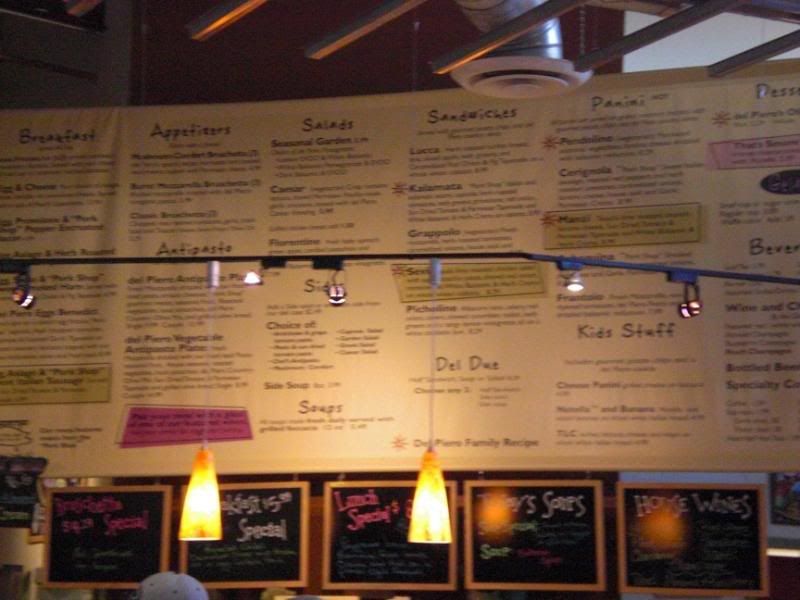 I had a fantastic antipasto plate with fresh Mozzarella drizzled with fresh basil pesto, artisan cheeses, "Pork Shop" gourmet meats, fruit, roasted vegetables, local pistachios, del Piero Country Olive Mix, and grilled olive bread. I got the plate for one, but it was huge and I shared it with all. I had a glass of chianti with it. B had a sandwich and the boys got nutella and banana sandwiches (the place has kids meals!) with chips and a cookie.
We ate our lunch on their gorgeous, shaded patio area surrounded by herb gardens and lawns.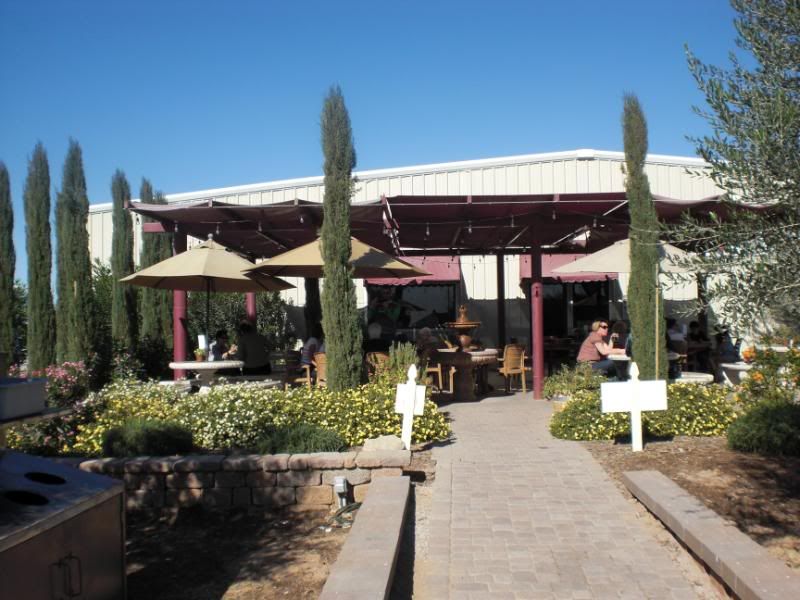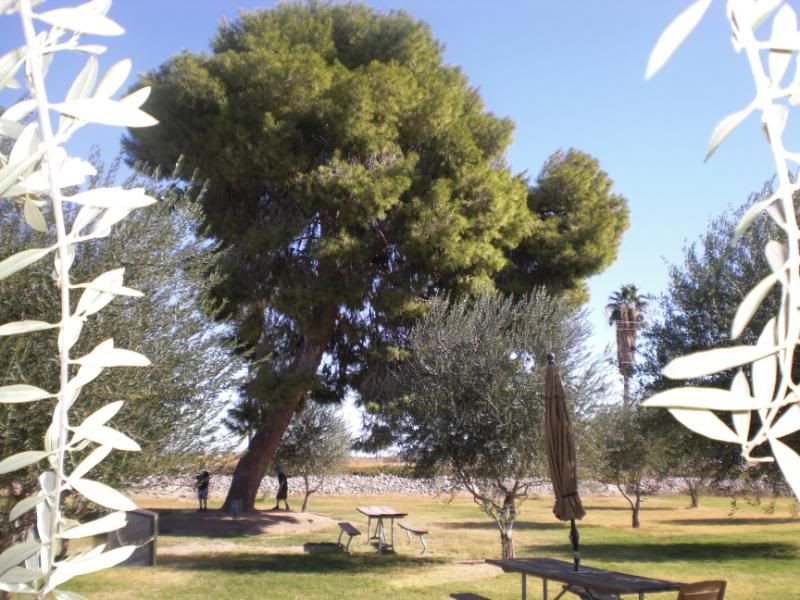 Don't you like how the olive leaves frame that last picture as if I photoshopped a border? (I didn't.) My only complaint about the place is that "for safety reasons" you can't tour the farm area and see the "real" olive trees. The ones on the visitor's center are all ornamental olives.
The "tour" was short and quick. It started with us seated outside while one of the workers told us the history, etc. of the place. We then moved inside where we got to see the olives being pressed. Here is the "caca," as they called it--or leftovers after the oil has been pressed out of the olives.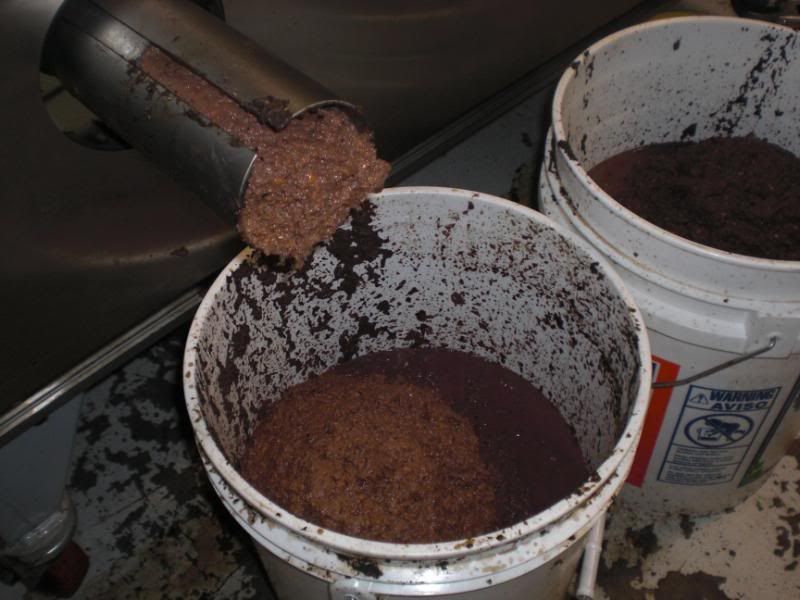 Mmmm...appetizing, eh?
But look at these beautiful olives: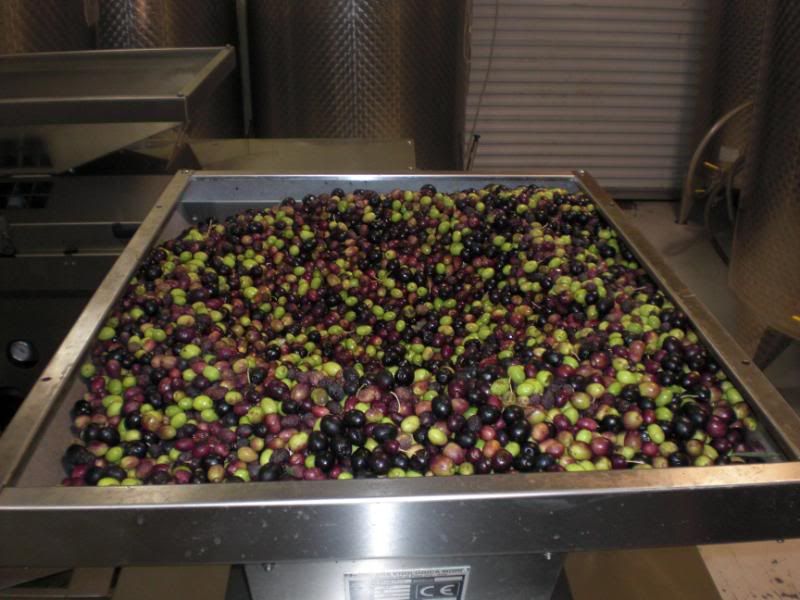 We then got to taste the freshest olive oil I've ever tasted (less than 20 minutes after pressing) and a number of their olives.
In the shop, they also have all of their olive oils for tasting. I went a little nuts in the shop. I got truffle olive oil and Mexican Lime olive oil (my favorite--makes fantastic vinaigrette). As a gift for a coworker, I got blood orange olive oil and pomegranate white balsamic vinegar. I also got some sun-baked tomato basil stuffed olives and some Mexican Lime olive oil cakes (these were awesome!). You can order all, but the cakes, through their website.
Here is the recipe for the olive oil cake from their website:
Olive Oil Cake
3 large eggs, beaten
2 cups granulated sugar
10 oz. QCOM Mexican Lime Extra Virgin Olive Oil
10 oz. milk
2 oz. lime juice
3 tsp. lime zest
2 cups all purpose flour
1/2 tsp. baking soda
1/2 tsp. baking powder
1 tsp. salt
Preheat oven to 350 degrees (325 if convection oven). Grease a 10 inch pan. Whisk the eggs, sugar, olive oil, milk, citrus juice, and zest. Sift the flour, baking soda, baking powder and salt. Mix the dry ingredients into the wet mixture. Whisk until blended. Pour into the prepared pan. Bake for 1 hour.
Queen Creek Olive Mill was low key and delicious. I highly recommend it if you're in the area.