My best friend Erika and I have birthdays exactly one week apart. We met in 1987, when I threw a going away party for her boyfriend who was leaving for the military. Somehow he ended up getting out of joining--not sure how that worked--and the party was unnecessary. But after I let her sleep in my bed where she cried and left make up all over my pillow, we've been best friends ever since.
We've been through tons together: break ups--both boyfriends and an engagement; we were eachothers' maid/matron of honor; children; etc.
On our 30th birthday, we decided to throw a bash of all bashes. She lived way out in the boonies of Appalachia, near Athens, Ohio, home of Ohio University. We organized a festival in our own honor called "Bitchapalooza" with tons of people from all over Ohio camping in her yard, bonfires, etc. It was a fantastic night. Here's a picture of me the morning after, pretending to drink from the huge ass wine bottle we finished the night before. It's SO nice that her husband is a wine distributor! I think this picture rather fits in with the "theme" of pictures I tend to post on here.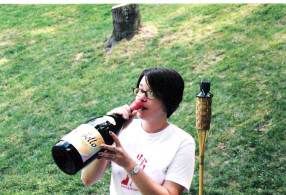 Unfortunately, you can't really see it well in the picture, but we even had t-shirts made up for the festival, which I'm wearing in the pic. It's a silk screen of a print my friend KG made from a photo my friend Phoebe made of me at my bachelorette party. Can you tell what it is? Here is a b&w version of the print. (Hint: that's my combat boot at the top of the pic).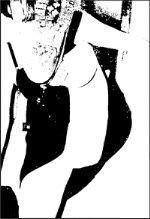 I remember that morning we had the most fantastic breakfast at the fabulous
Casa Nueva
in Athens, a co-op owned Mexican restaurant that specializes in wholesome ingredients. I swear they have the best hangover breakfasts in the world. Or at least they did.
Damn, I got sidetracked by the thought of a CN breakfast...
So anyway, we've been talking for a few years about a Bitchapalooza II for our 40th. And what better way to do that than a girls weeekend in Vegas? Well, we're pretty good at talking shit like this and not following through, but yesterday I called her up and said let's get this done. And we did! We found an awesome deal for airfare plus 3 nights hotel plus 2 tickets to the Cirque de Soleil show of our choice for just $264! We're going to stay at Circus Circus, which I haven't heard great things about, but who cares...it's cheap and we're doing it. We plan to see the Beatles "Love" show for our free tickets.
ALL I HAVE TO SAY IS WOOHOO!
And to finish up, some lovely pictures of us throughout the years. Yes, we are goofballs. And yes, we used to drink too much. The last is just a couple of years ago. The calmer, more gentle Erika and Julie. You can see we've known our husbands for a very long time.