B and I got a sitter and enjoyed a night of Denver Restaurant Week
at
O's Restaurant at the Westin Westminster
. If you didn't see
my earlier post about it
, Denver Restaurant Week is an annual event where tons of local restaurants have special prix fixe menus for the price of $52.80 for two people. It's a great way to try some of our finer restaurants without shelling out the usual dough.
Chef Ian Kleinman
is the only local chef that I know of (which might not be saying much) that is doing menus with molecular gastronomy. After reading several online reviews of his restaurant, I was curious to go and experience it for myself. The prix fixe menu for the week is
here
.
We had a great meal and didn't think to take pictures--a testament to our level of enjoyment--but there is a great review with pictures at the blog
CulinaryColorado
.
For appetizers, I chose the 148 Degree Egg with Grilled Tomato, Prosciutto and Cherry Balsamic, a fun and delicious play on ham and eggs. B had the Lump Crab Cake with Avocado Relish, Watercress and Sriracha Caviar. I loved the spicy "caviar"--my second favorite dish of the night. For entrees, I chose the Sous-vide Dijon Chicken with Pastrami Hash and Rosemary Air and B had the Grilled Salmon with Shitake, Asparagus and Hoison Brulee. The latter was very good, but my chicken was absolutely delicous. It was cooked perfectly--very tender--and the dijon and rosemary flavors were great. But I surprisingly loved the pastrami hash. Together the flavors made the dish very German tasting. It was quite hearty.
The desserts were sadly disappointing. I had the Vanilla Custard with Peach Air and Tapioca Pearls. The bananas and peaches on it were very unripe and the dish had a metallic taste to it. B had the Liquid Nitrogen Whipped Blueberry Ice Cream with Grilled Yuzu Pound Cake and Caramel. The "grilled" cake had an over powering burnt flavor. Ick. But despite the desserts, the other dishes were all so good that we didn't mind so much.
After, we went to
Paris on the Platte wine bar
. I really like this low key place and I worry that the two times I've been there (both on Sat. nights), it's been fairly empty. They have a great selection of wines by the glass and bottle. Not a huge selection, but a very good selection. I actually started out the night with a French
absinthe
, served
the traditional way
with a sugar cube placed on a slatted spoon and a match used to caramelize the sugar into the glass. I loved the ritual of it all. The taste was okay, and (un)fortunately, I didn't have any hallucinatory Oscar Wilde experiences.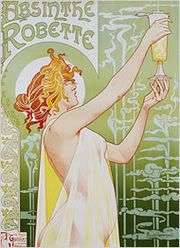 Our bartender was great and had the cleverest tattoo--
a handle bar mustache on his index finger
so he could hold it up over his lip. He was very knowledgeable about the wines and suggested an excellent Spanish red, that I have now forgotten the name of (damn!).
Despite the
reviews on Yelp
, I was a bit disappointed in the Chianti board, which included bread, prosciutto, salami, cheese, veggies, and a dipping sauce. It was decent, but not great. They play good music at the bar and later had a guitar player and vocalist who were very good.
Here's our poorly done phone picture from our night in Paris: