I meant to write "bounty," but "booty" came out. But that's kind of what it is, right? A treasure. This morning was the first trip to the Farmer's Market. Our local one isn't open until June, so we checked out the one in Boulder, which is larger than the one we usually go to.
Here's what we got:
MouCo ColoRouge cheese
: a cow's milk soft cheese that's very creamy and butter. It has a reddish tinge to the rind, hence the name.
Breadworks Irish Oatmeal bread
: hearty bread from a Boulder bakery
organic arugula
organic rhubarb: I'm going to try to make a rhubarb pie for the first time.
WineChick Pinot Noir: a pinot for only $9! The guy selling it said that the low price tends to scare people off, but it's really good. I say, at $9, why not try it? It's from grapes grown in the Palisades and bottled by a woman in Boulder. It's got a cute label too.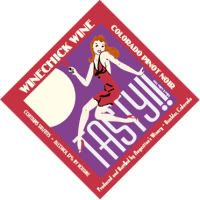 Allegretto American Orange Muscat from
Bookcliff Vineyards
: a dessert wine with "aromas of orange blossoms and apricots" that "has a light zesty finish in the mouth."
Yum! I've already had some bread with the ColoRouge and honey. I may pop open the wine(s) tonight.
Also on the locavore front: there's a "microfarm" around the corner from our neighborhood and they've got a new sign up that they're selling fresh, frozen, and off the hoof half or whole lambs. I'm seriously thinking about getting some.