I got my garden in this weekend. It's so cute!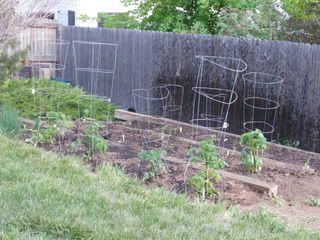 It's got 6 different kind of tomatoes ranging from your standard to cherry to heirlooms to romas. A nice wide variety. I have zucchini, yellow squash, cucumbers, cantaloupe, tomatillos, 2 kinds of basil, mint, parsley, arulula, butter lettuce, and corn (I warned B that we probably don't have enough for it to work, but he wanted to try it--maybe it will somehow cross pollinate with the corn on the other side of the fence in my neighbor's yard). I also have chives and oregano that come up every year.
I hope it does well! I don't have the greenest of thumbs. This weekend I need to work on the
flower garden in front
.
I also finally got around to calling a phone number on a sign at a nearby farm for fresh eggs. We went to get them and I wish I'd done it sooner. The boys loved the farm--especialy the chicks. The farmer is ancient and very sweet. He only had 11 eggs at the time, but they are beauties.
They're a wide range of sizes and colors. Look at that gorgeous orangey one. They taste great too. At 2 bucks a dozen and only 5 min. from my house, it just doesn't get much better than that.
I'm thinking about heading to Boulder on Saturday to hit their
Farmer's Market
, so perhaps I'll have more locavoring fodder to post then. Yum!