Our House
...in the middle of our street. This will be a very boring post to anyone reading this but me.
First, my flowers. The guy before us planted NOTHING. So we have a very clean slate to work with. Unfortunately, I am a very inexperienced gardener. Here is my little garden in the front. It's mostly perennials, with a few annuals, and of course, my Mother's Day rock, which I love. I hope to put more in as time goes on (both rocks and flowers).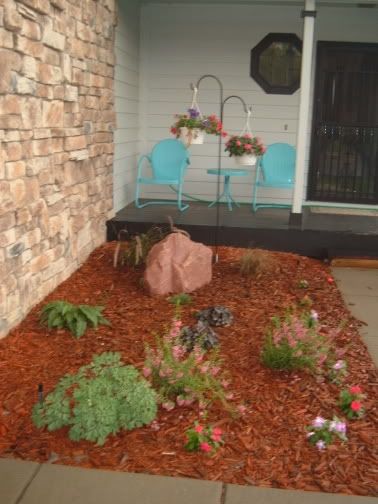 I really love that grass behind the rock. Unfortunately, it's an annual, so I'll have to redo each year.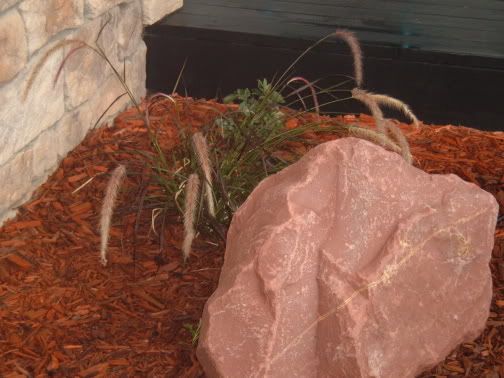 One of my 3 clematis on the front fence: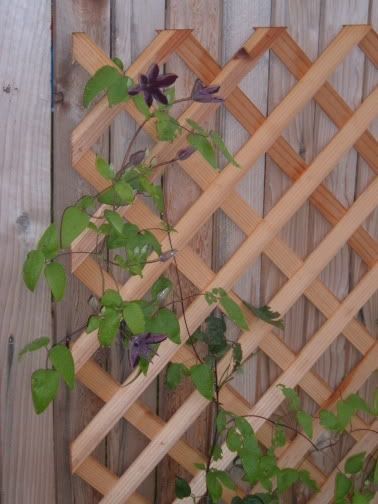 My sunflowers in the back yard. I especially love these red ones. I have to find them again next year: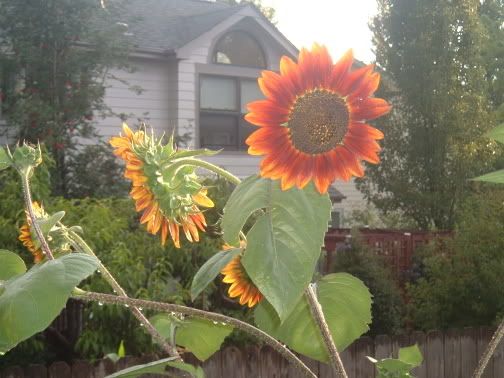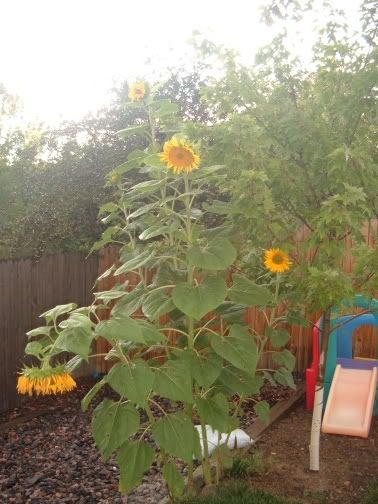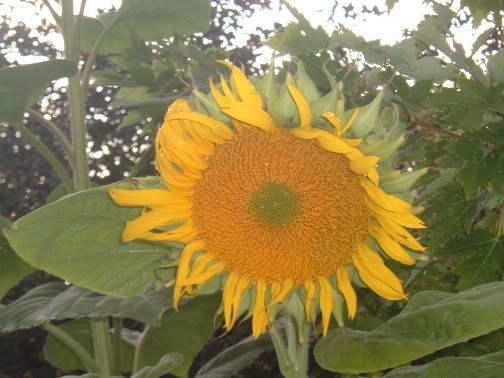 I also have an herb garden, tomatoes, and forget-me-nots in the back. I hope to do more vegetables next year.
In addition, to not planting anything, the guy had all white walls. We are just starting the process of changing that. We bought some bedding for our room recently. Here is the pic from the site: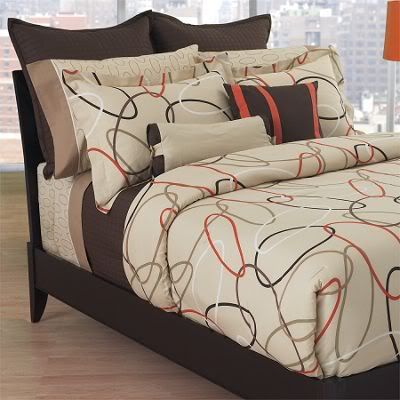 We were able to get everything except for the chocolate brown big pillow shams in the back. I've ordered them twice, only to have the orders cancelled due to none in stock. We painted the room similar to the edging on the 2nd set of pillows, next to the chocolate brown ones. I was a little worried about it, afraid it would be too dark, but it looks really good and contemporary. Brian calls it chocolate milk, I think it looks a bit like peanut butter. Now, I think the room needs a bit more color. Dare I put in a few orange accents?
___________________________________________________________________________________
Recent Reads:
"Love is the Drug" by Sarahbeth Purcell
: I really loved this book. It's about a young woman struggling with alcoholism and obsessed with lists. I think one reason I loved it is because many of her lists include obscure music and movies that I enjoy. Very hip, enjoyable read.
"The Perfect Elizabeth: A Tale of Two Sisters" by Libby Schmais
: Also an excellent book. About 2 sisters (duh), one of which (the narrator) that struggles with depression and moving forward with her life. This book, although short, took a long time for me to read, but I think it's because I savored it--certainly not because it was boring or difficult to read.
"The Ivy Chronicles" by Karen Quinn
: Fairly typical "chick lit" a la "The Nanny Diaries," but never the less an enjoyable read. It's about a woman who loses her job and starts a business helping New York's elite get into the top preschools.
"London is the Best City in America" by Laura Dave
: I had a hard time getting into this book and almost abandoned it half way through, but in the end, I like it. It's also about a young woman having a hard time moving forward with her life. There were a bit too many familial coincidences, though--a bit far fetched.
"Comfort Me With Apples" by Ruth Reichl
: I am in the middle of this one, but I absolutely love Ruth Reichl: an ex-hippie turned foodie/restaurant critic and now editor-in-chief of "Gourmet" magazine. This book is another memoir, chronicling her beginnings as a restaurant critic. Can I just say that I totally envy her life?
By the way, I have several of the books above posted and available on
paperbackswap.com
, a really cool site that allows you to trade books with other members for free. If I inspire you to join, will you please use me as a referral? My user name is mpcsmommy. Thanks!