That Little Butthead!
Oh....Miles is so funny. That kid is just something else. Last night, he came out of his room after bedtime, as he often does, this time requesting Pip, his little duck. I remembered that he had left it in my car that morning when I dropped him off at school (Pip is too young for school). So I said, "Okay, I'll get it, but first you have to say 'You're the best mommy in the whole world.'" Miles dutifully did the needful, and when I came back in, I noticed that Brian was laughing. I gave Pip to Miles and he went back to bed (the polite little guy did thank me).
So Brian tells me that after I walked out, Miles said, "But you still spank me." What? That little butthead! Number one, I'm not a spanker, although I have threatened on occasion. Number two, what a sneaky little dude! He may be a butthead, but he cracks me up.
Today is school pictures and he was not happy that we "helped" him pick out his outfit. He loves to pick out his clothes and usually comes up with
something like this
.
This weekend is his school's Halloween Party. We'll see what the boys pick out to wear. Not sure they'll choose the same things that
they wore to the Pumpkin Patch
or not. Then we leave for a week vacation in Sunny Arizona. I can't wait! We've gotten
way too much snow here already
(4-10 more inches tonight!).
Mostly we'll just hang out, but we plan to go trick or treating and do "
Boo at the Zoo
." We'll do the
train park
and also celebrate Brian's birthday: the big 3-9.
I plan to take him away from the kids for a day and visit
Taliesin
. Then maybe dinner and a movie. We're both very excited about the former.
The night before we leave we're having a sitter and going to a Halloween party--woohoo! Too bad we have to get up early the next day. Oh well, that will make us keep the sitter costs down. We're being unoriginal and using a costume we used in the past. Something very similar to this: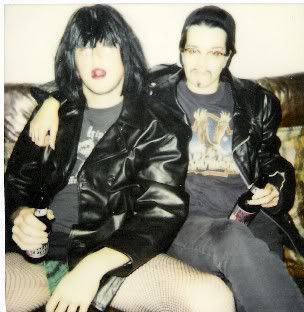 ___________________________________________________________________________
Currently Reading: "
Happiness Sold Separately
" by Lolly Winston. I just started it, but loved her first novel, so am looking forward to it.
Recent Reads: "
The Rug Merchant
" by Meg Mullins. I "read" this one as a CD book. What an absolutely lovely and sad book. Her writing is gorgeous. It's about an Iranian man who has come to America to support his wife and mother by selling rugs in NYC. His wife leaves him and the book chronicles his sadness and ensuing relationships with a young Barnard student and an older society matron customer.
"
This is Not a Love Song
" by Sarahbeth Purcell: I didn't like this as much as her first book "
Love is the Drug
." But I still enjoyed it. This is about a girl whose boyfriend has left her and mostly through letters and diary entries chronicles her relationship with the boyfriend and her relationship with her best friend, who is an alcoholic. A decent book about hipsters (but not TOO hip) who listen to My Bloody Valentine. Bonus points for that.
"
The Guy Not Taken: Stories
" by Jennifer Weiner: I usually like Weiner's books (although I thought the murder mystery one was just "eh."), but I wasn't fond of this and found myself rushing to get through it. To give her credit, I am surprisingly not fond of short stories. Not sure why. Maybe I just prefer the investment of a lengthier novel.