Pumpkins
We had a great weekend, but very busy. On Saturday, we went to the Pumpkin Festival. The boys got to dress up, which was fun, since we probably won't be able to do Halloween this year (we'll be out of town and recovering from surgery). Miles dressed up in the Grand Canyon Ranger outfit that Brian got him when he hiked the canyon. Jack dressed as a prisoner in his Alcatraz jammies with a red "do rag." We got 3 pumpkins and the boys got to ride on a hayride with an antique tractor and a barrel train. Here's a pic from the event: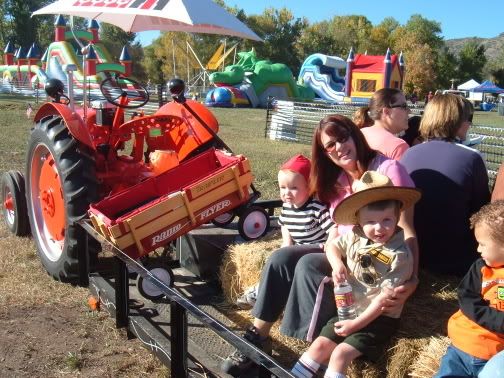 Afterwards we went to visit my parents. They live about 1 1/2 hours away. We really didn't do much other than go out to eat. We visited my grandma on Saturday and then I went back on Sunday for another visit. She's just not doing well at all, which makes me very sad. Mom and Dad spoiled their grand kids and we just hung out. The boys had a lot of fun.
We got our first snow on Sunday night, but made it home before the snow, thank goodness. I got some reading done in the car, which was nice. I read a new book of Marian Keyes' essays and stories, called "
Cracks in my Foundation
." Can I just say how much I love her? Her writing is just so darn enjoyable, and I swear we have a lot in common. An example, two posts ago, I post this: "I just wouldn't be me if I wasn't stressing about something." Quote from Marian: "I think I might actually be a small bit calmer. It's all a little alarming--if I stop being anxious, who will I be?"
Another example: an essay called "Your Bad Health," where she describes how she gets sick all the time. I'm a little ashamed to admit it, but this is totally me:
"a) I've got no stamina and my immune system is like a rusting '89 Ford Fiesta.
b) I'm neurotic and a drama queen.
c) I love going to bed with a load of magazines and having people bring me cheese on toast and not being able to complain about it because I'm
sick
, see.
d) I'm extremely suggestible. If I hear of anyone else being unwell, I start to develop their symptoms..."
And then she talks about how she gets annoyed when her husband is sick. I am so ashamed, but I totally do that! Not always, but I have certainly been known to. For shame.
Anyway, I think she's totally hilarious. So check her out sometime. My favorite novel is probably "
Rachel's Holiday
."
If you haven't checked my blog lately, be sure you don't miss my last post about The Reconstructive Surgery Act. Please consider writing to your congressmen asking them to support this legislation. Thanks!