Our House, Part 2
ETA: PICTURES!!!!!
WTH is going on with blogger? I can't get on and then finally do to find out that my last post ("Bargain Mama") is up 4 times? I deleted 3, and hope I didn't mess something up.
Anyways, we had a very low key weekend. We continue to do more work around the house. B put up a pot rack (that he got at a garage sale for $3, but my precious little Bargain Papa) above the bar between the kitchen and dining room. Here it is. I did not clean out the sink before taking the pic, LOL: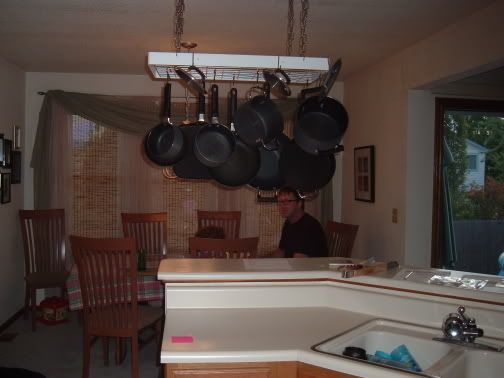 We also just ordered the following porch swing--on sale and free shipping, woohoo! I can't wait to get it and laze on it with a good book.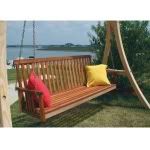 We are thinking about doing the dining room/family room/kitchen (since it's all kind of one area) in the following colors by Behr: ryegrass and outback. If you're actually interested, you'll have to go to the
Behr website
to see them.
Oh, and here is our new bedroom. Yes, the really messy night stand is my side.