...so little time. I feel like I can't keep up! Flashback to last weekend. KG came and it was a blast. We did not go to Red Rocks to try to get tix to the Flaming Lips, we figured it was a lost cause. Had her and her brother and sister in law over for a bbq. They brought their 6 week old baby--so cute! Then Brian, KG, and I went out to some local bars. It was fun. KG introduced me to my new favorite: Jameson's with a Sprite back. Deeelish! The next night we went to dinner and then she came over and we pored over old photos. Too fun. We were such wild women, LOL.
Some funny ones of me: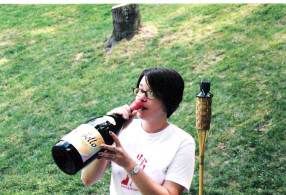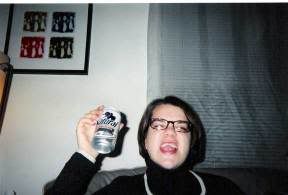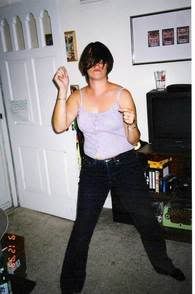 This weekend we focused on packing for our upcoming trip to Ohio and went to Splash water park yesterday. It was the perfect day there; it was totally empty. I guess because it was cloudy in the morning? Colorado people are so weird. It was really nice in the afternoon. I'm not complaining, though....Brian and I took turns watching the kids while the other went down the water slides.
Tomorrow we leave for Ohio. It will be a long day of travelling. We fly into Columbus then drive to Toledo, stay there until Saturday morning, then back to Columbus. Then fly home on Tuesday. There are so many people to see; we're not going to have enough time to spend with all of them. But it will be so good to see them even just a little bit.
The next time I write will probably be after we get back. Bon voyage.