This is continued from the
post below.
The first morning (Monday) we set off after breakfast for
Benziger Family Winery
. This winery was particularly interesting because they are a certified biodynamic winery with sustainable farming practices. We went in our first cave. God, the smell! There's nothing quite like it. Stinky and delicious at the same time.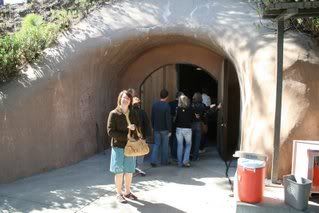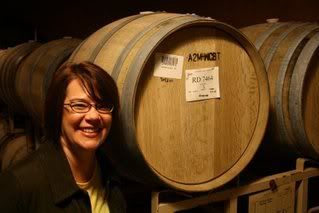 We only got taste 2 of the wines very quickly before we had to run off to make our
Bouchon
lunch reservation. We had a very quick, but gorgeous trip over the mountains to Yountville in Napa Valley. I had tried to get French Laundry reservations before our trip, but never even got through on the phone, so Bouchon was our 2nd Thomas Keller choice. And much less expensive too! We sat on the patio and it was a beautiful day.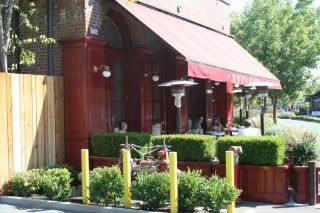 We shared a bottle of white wine--unfortunately I can't remember what it was and they don't have their wine list on their site. I had the Boudin de Lapin et Figue--something I would never normally order, but I figured, wth, this is Keller--he should know best. OMG, am I glad I did! It was rabbit and fig sausage with polenta cake, sweet corn, mission fig, and tarragon jus. It was hands down one of the best dishes I ever had. Brian had the Assiette de Charcuterie with pickled vegetables, dijon mustard, and petite baguette. It was good too (but not as good). For main courses, I had the Poulet Roti--roast chicken with puff pastry tartelette, ratatouille, garlic chips and chicken jus. It was excellent, if a bit salty, but B's dish was much better. He had the Boudin Blanc--white sausage with potato puree and French prunes. It was almost as good as my sausage appetizer.
We skipped dessert there and headed next door to the
Bouchon Bakery
where I got a cup of coffee and we got some baked goods for later. B got a mocha eclair and I got a muffin with pistachio and candied orange.
We then headed to
Domaine Chandon
, which produces sparkling wines. The grounds were beautiful. We especially liked the
rock mushroom installation
and what do to something like this on a much smaller scale in our front flower garden. Our friend Eric, who works for a wine distributor in Ohio, had set us up with a free tour and VIP tasting.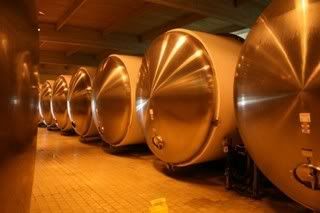 Kirsten was our guide and afterwards led us and four others to a special tasting aread--almost a shady grotto. Our companions were 2 young men from England, one who worked for Veuve Clicquot and 2 young women from San Diego who were in the military. In both sets, one person was celebrating a birthday that day and we, of course, were celebrating our anniversary, so the mood was festive. Kirsten sneaked and got us some extra to taste like their Etoile Rose. Everything was delicious. I had just tried Domaine Chandon before coming to wine country and I am a big fan now. We got pretty generous pours and quite a few types to try. So after that and our bottle of wine at lunch, I was feeling pretty euphoric.
We took our time on our drive back over the mountains to Sonoma Valley. Here you can see tipsy Julie with some massive looking boobs and our car.
We stopped at the
Mayo Family Winery
for a tasting. This is what sent me over the edge: 12 tastings with very generous pours. Apparently it was the tipping points for others there. The place was very rowdy with a very drunk middle aged tool wearing silver(!) docksiders and another guy who went on a loud rant about Soupy Sales, of all people. We met a nice couple (who were fun but much quieter) that were also staying at our B&B. The only wine there that I truly liked was a secret 13th one that the server said was his own mix and he wouldn't tell us what it was. It was delicious.
We had dinner at
The Girl and The Fig
in Sonoma. We didn't want to wait so ate at the bar, which was fine. I had an incredible lavendar mojito. Seriously one of the yummiest drinks I've ever had, but it must have been strong, because by the end of the meal, I was trashed and went home and passed out early. Woke up in the middle of the night feeling ill, but was okay by the next morning, thank goodness.
At the Girl and the Fig I had the plat du jour, which consisted of a yummy salad, some incredible halibut, and a dessert of fig with some kind of pancake like thing. I wish I remembered the details of this meal better, because it was really good. Brian had the salami & brie baguette with red onion confit, sherry mustard, blue lake bean, red onion & tomato salad. He also had some kind of local beer that he really liked.