This is continued from the
post below
.
On Tuesday we woke up, surprisingly without hangovers, and, having learned our lesson, ate breakfast on our porch. It was chilly but gorgeous. We had buttermilk waffles with apple compote, some sort of sweet bacon, and a fruit bowl that contained canteloupe, mixed berries and figs. I have never eaten as many figs in my life as I did on this trip.
We then headed to
Moon Mountain Vineyard
, a tour our friend Eric had set up for us. We LOVED this place. Our guide was Angie and she started us out with some tastings, then gave us a glass to carry with us while we toured the winery. It was just us and one other couple, so it was very personal and Angie was incredibly knowledgeable.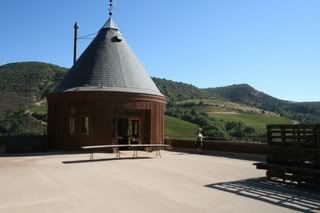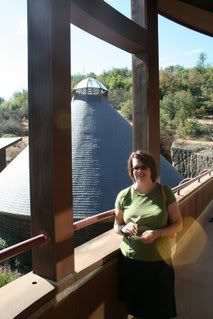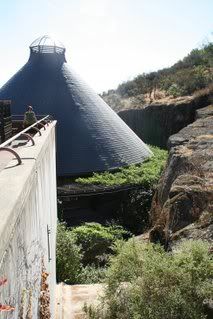 Moon Mountain was another winery that was certified organic and completely sustainable. It and Benziger had planted plants that promote the good insects and birds (that eat the bad insects), had owl boxes to help control rodents, etc. It was pretty interesting stuff.
The caves were really cool and had been drilled into the volcanic rock. We got our first barrel tasting of wine there.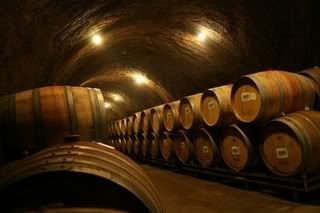 We then bought sandwiches at the
Sonoma Cheese Factory
. We took them over to
Gundlach Bundschu winery
for a picnic. We did not do a tour or tasting there. We then headed over to
Acacia Vineyard
in Carneros, where Eric had set up a tasting for us. They seemed to focus mainly on Pinot Noirs. Their wines were excellent, but quite expensive. I wanted to buy some, but just couldn't swing $65 on a bottle. We loved the Horseshoe Bend Pinot Noir and a Late Harvest Chardonnay, a dessert wine that tasted like honey. Our tasting guide, Margaret, whose nametag said she was "Queen" of the establishment, was quite a character.
We had dinner that evening at the
Fig Cafe
again. It was close and we liked it. We had the artisan cheese plate again and made sure to choose the
Pierre Robert
again, along with a couple of offerings we hadn't tried before. We shared the heirloom tomato pizza this time with a decadent brownie dessert. I got the wine flight, which consisted of four pours and Brian had Lagunitas Censored Beer, which he really enjoyed.
We then headed back to San Francisco for my anniversary present to Brian. I got tickets to see
My Bloody Valentine
at the
SF Design Center
, a strange indoor/outdoor venue. It was huge and it was virtually impossible to see the stage. We were pleasantly surprised to see that
Spectrum
was one of the opening acts--a very strange coincidence because I had joked earlier that day that he might open. YES!!! I HAVE ESP! I've seen him perform before as Sonic Boom and did not enjoy it, but he was good this time. I wish I could say the same for MBV. They were trying to hard to be the loudest band in the world and not trying hard enough to sound good. I'm not exaggerating: I read somewhere that they've played louder than The Who; and I think they must have managed it this time. I know I'm old, but COME ON. It was just stupid. I had to go to the bathroom to get TP for our ears, since I had forgotten to bring ear plugs. We were definitely not the oldest people at the show, but we were one of the few that forgot to wear our early 90's black clothes (*rolling eyes*). Brian thought he saw two starlets (separately) at the show. I was pissed he didn't tell me. Damn, if I can remember who now. I think he said Zoe Deschamel and Michelle Williams. I'll have to try to remember to ask him.