On Thursday, our actual anniversary, we FINALLY managed to sleep in and didn't get up until 9:30. We had breakfast at what turned out to be a really crappy place, despite the sign that said it had the best breakfast in town. I should have known better. If I had used the bathroom there before my breakfast game, I wouldn't have eaten there. They actually had a sign in it that said don't throw the paper in the toilet. I thought they must mean paper towels, right? Then I noticed the same sign was on the toilet paper dispenser. GROSS!
We did a little window shopping and then hightailed it down the Napa Valley. We, of course, had to get pumpkin and pistachio milkshakes at
Taylor's Automatic Refresher
. We stopped at the absolutely wonderful
St. Helena Olive Oil Company
, where we bought gifts and souvenirs. You can taste all of their products. In addition to olive oil, we got cabernet vinegar, tarragon mustard, and black button sage honey.
We headed back to San Francisco and stopped at Golden Gate Park, where we first visited the Japanese Tea Garden. We took a lot of pictures because it was so pretty.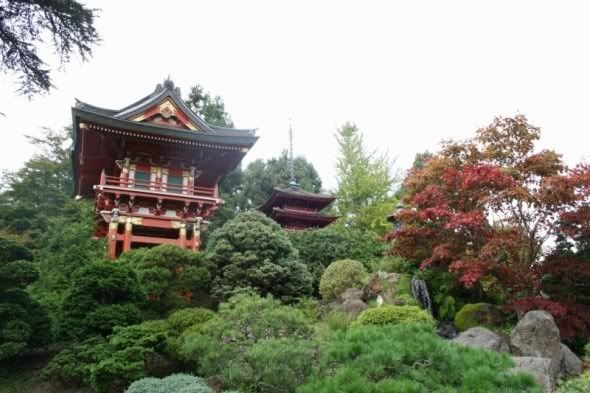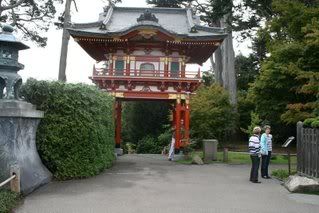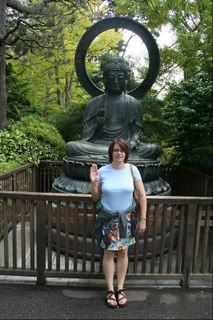 Here's another pretty site from another part of the park:
We then checked into the
Hotel des Arts
. Each room has murals done by a different artist and the halls are lined with art for sale. We stayed in
this room
done by Sam Flores, which was really lovely. Take a look at the various rooms on their
website, here
. Many of them are absolutely gorgeous. It's a very old school, big city, almost European style hotel. We got one of the rooms with its own bathroom. I wasn't going to share a bathroom on my anniversary. The room was very small, but comfy. In the first pic below you can see how the bathroom door opens and hits the bed. My only complaint was that they needed a ceiling fan for air circulation. To this desert dweller, SF was incredibly humid and I was so hot when in the room. We got a teeny fan from the front desk, but it didn't do much. Our room windows opened up to a kind of rooftop courtyard (but not one you should really go onto). So our view was windows of other rooms in the hotel.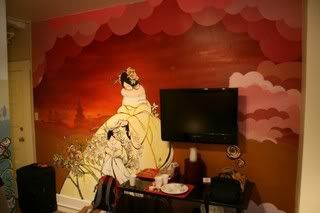 We got ready and headed to Berkeley (which, by the way, is dumpier than I expected) for our anniversary dinner at
Chez Panisse
. If you are not familiar with
Alice Waters
; she is considered by many to be the founder of "California Cuisine." The restaurant started in the seventies and is famous for featuring local, seasonal fresh food. It serves a prix fixe menu that changes nightly. You don't know what will be on the menu until one week ahead of time, so hopefully it's something you'll like! The items we were served were items I probably wouldn't have chosen, but I am very glad I was served them as they were outstanding.
The menu consisted of
Country-style pork terrine with pickled beets, leeks, and cherry tomatoes
Tomales Bay mussels mariniere
Grilled Sonoma Liberty duck breast with shell bean gratin and tomato confit
Red wine-poached pear with creme anglaise
We had a bottle of champagne. The pork terrine was delicious. The mussels were good, but I thought the weakest dish. The duck was the best duck I've ever had. Actually I haven't had duck much, and I don't think I've ever had it done right. This was definitely right. The pork and duck dishes were my favorites of the evening and in a dead tie. The poached pear dessert was outstanding as well.
We then headed back to SF for our reservation at
Bourbon and Branch
for cocktails. It's a speak easy and you need a password to get in (which you get when you make a reservation). It's done up in swanky red and they have a HUGE menu of classic and new drinks. They serve only high quality liquor and mixers and even fresh squeeze their juices each day. I wish I could remember the 3 drinks I had. I should have written them down. I know one was made with Pimms--which is my new favorite drink. Surprisingly, the 3 cocktails did not make me very drunk. B and I decided it must be the low altitude (combined with the large meal).