Friday was a whirlwind day of sightseeing. We started our morning in Chinatown. The entrance was almost right across the street from our hotel.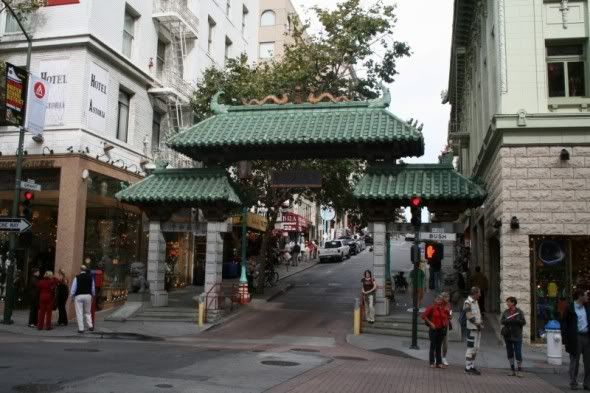 We walked around and bought some souvenirs--t shirts for the kids and cousins, a little silk chinese outfit for baby Wyatt, some little toys for the boys.
We then went for a dim sum lunch at a little hole in the wall restaurant. We had pork buns, sesame balls, short ribs, string beans, and the cutest little rabbit shaped shrimp balls.
We then walked to
Golden Gate Bakery
for dessert. My egg custard tasted better, but Brian's moon cake was prettier: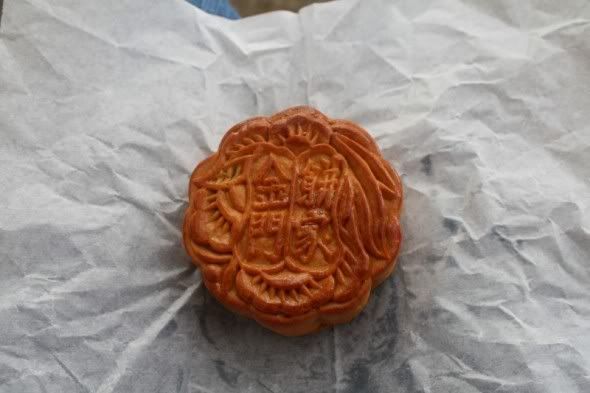 We then went to
City Lights bookstore
for some browsing and to see the Jack Kerouac stuff outside. I got a tshirt, that is already too small(!).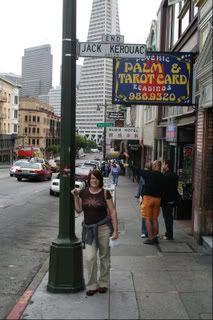 Then it was a hike up to Coit Tower (whew!).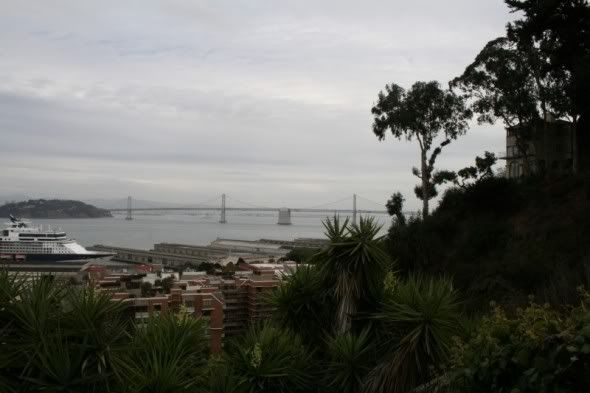 You can see Telegraph Hill, the famous windy street, in the middle of this one: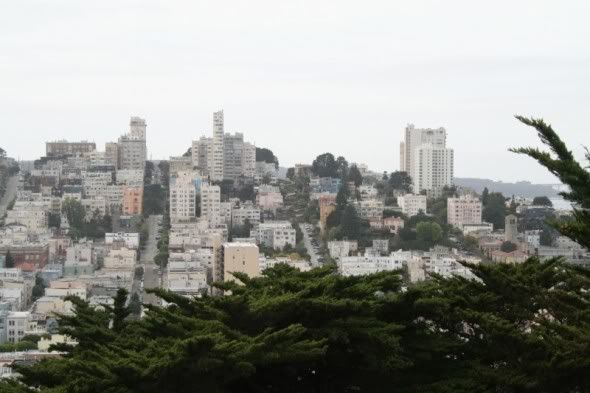 Then we went to Fisherman's Wharf to see the Sea Lions. We didn't do anything else there--too touristy/crappy. But Brian unexpectedly ran into someone he works with. Small world. The sea lions are so funny and cute (and loud)!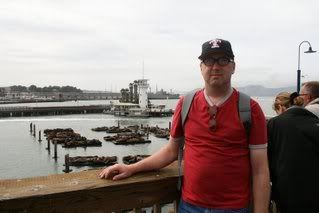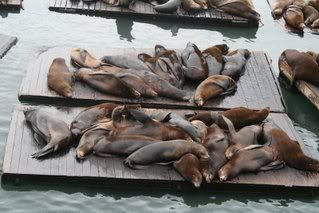 We then had to do the requisite ride on the trolley car. We had the meanest, scariest driver ever. Some kid didn't understand what he was saying, so he made the poor kid move to the inside of the car. He was a serious crabapple.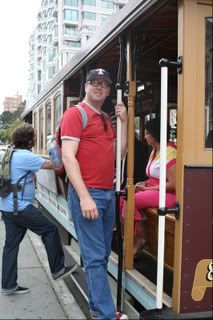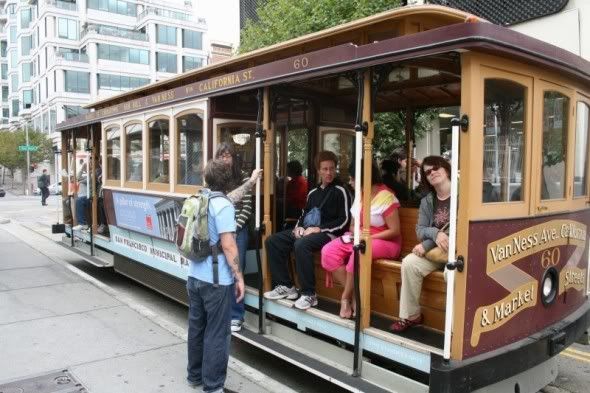 For dinner, we went down to the
Ferry Building Marketplace
and did a little window shopping. Most shops were closing, so we didn't get to explore and shop as much as I would have liked. We did get to go to do some shopping at the
Scharffen Berger
store, where we sampled lots of chocolate and bought quite a bit too, including their
10th Anniversary Blend
, which we felt was quite appropriate considering the nature of our trip. We stopped for a drink at
Ferry Plaza Seafood
. I had sparkling wine and B had beer. It had great views and the seafood looked like it would have been yummy.
For dinner we went to
Slanted Door
. I was really looking forward to this meal, as I had seen it recommended on
Chow Hound
and a colleague who is really into food had recommended it. I was kind of disappointed. It was VERY loud and trying way too hard to be "hip." The tables were so close together I was practically sitting on my neighbor. Our waiter was very inattentive and just generally sucky. He even brought out one of our appetizers with the main dish. WTF? The worst thing was the bathrooms which are unisex (!). They have an attendant there to show you into a stall, which thankfully is fully enclosed. But he apparently wasn't doing his job and the lock on mine wasn't working and he actually let a man walk in on me!!! Plus I really don't want to freshen up my lipstick while standing at a sink next to an old man. Bad bad idea on the bathrooms, people. So, here is what we had:
To drink I had a Royal "Pimms" Cup--a refreshing house blend of gin, vermouths, amari and zests topped with ginger ale and sparkling wine; served tall. Holy shit, it was good! I had two. B had beer. To eat we had Japanese yellowtail with crispy shallots and thai basil--this was pretty good. We had the Slanted Door spring rolls with shrimp, pork, mint and peanut sauce--these were very disappointing and nothing special. We had the seared dayboat scallops with spicy red curry, celery root and asian pear slaw--this was the only dish that lived up to my expectations--it was awesome. As a main dish, we had caramelized tiger prawns with garlic, onions and chili sauce--these were okay, but nothing I couldn't get in any decent chinese restaurant.
After dinner, we headed over to the
Carnelian Room
for the view and some drinks.