This post is a continuation from the
post below.
On Wednesday, we woke up and had breakfast on the porch consisting of a polenta-crusted zucchini quiche, a fruit cup similar to the day's before (with figs), homemade sausage patties, and the raspberry lemon bread (like first day). Dee-lish.
We hightailed it up the Sonoma Valley and across the mountains to Calistoga Springs. We had "the works" scheduled at
Dr. Wilkinson's Hot Spring Resort
. Our package included a mud bath with facial mask, an aromatic mineral whirlpool bath, steam room, blanket wrap and one-half hour massage. Dr. W's was very "old school." The spa room kind of looked like an old gym and I was a little shy, since there was no privacy. Nothing like getting butt naked and climbing into a tub of mud in front of several women. But it was relaxing. We also stayed at the motel there, which was very cutes-ily vintage. I felt like it was about 1962.
After the works, we had lunch at a deli across the street and then headed to
Sterling Vineyards
, where Eric had set us up with a tour. It looked like a huge Mediterranean villa and you had to take a tram to get up to it.
It was a self-guided tour with stops for tastings along the way and more tastings at the end. The wine was okay, but not my favorite of the trip. I really enjoyed getting to see the grapes being brought in and the process of de-stemming, crushing, etc. starting.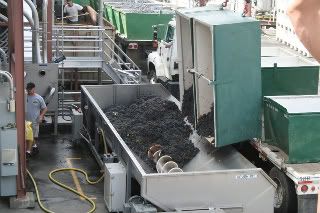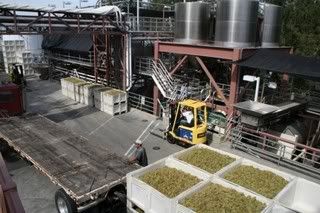 We had a little time to kill, so we headed over to
Clos Pegase
for a tasting. The building was designed by Michael Graves and they had lots of art, including an artist there working and displaying his paintings. He had a sweet, mellow dog with him. Our server was incredibly pompous and served our wine by spinning our glasses, and pouring the wine in them while they were still spinning. However, he let us join a bit of a tour of the caves, which contained more art. You can see some of the art on
this page
, but it doesn't show my favorite pieces, like this
giant thumb
and
Bacchus
.
We then headed over to
Castello di Amarosa
, a winery in a castle that looks like they shipped it over from old Europe. However, it was completed in the last decade and is only a replica. Some of the bricks are from old castles, but it does not exactly replicate any one castle, just the general style. They tried to make it historically accurage. It is definitely a tribute to excess.
The caves were really lovely and it was a fun tour. There was even a torture room. I especially liked the Pinot Bianco and the Gioia, a rose, and we bought a bottle of each to bring home.
That evening we had dinner at
Taylor's Automatic Refresher
in St. Helena. This was Brian's favorite place we ate at on the whole trip, mainly because he loved his pumpkin shake so much. Taylor's looks like it used to be a drive in, but now you go up and order. They call you when it's ready and you eat it at a picnic table. The main difference between it and a normal drive in is that the food is a little more gourmet and they serve alcohol. I had the ahi burger and sweet potato fries. The latter were a little disappointing (they had some weird herbs on them), but the burger was delicious. I also had a fantastic pistachio milkshake with whole pistachios in it and a glass of white wine. Brian had a regular burger with SP fries and the above mentioned shake plus a beer.
We went back to Dr. W's to have a swim. We ended up feeling like naughty school children along with the older people in the pool--a Danish couple and two women from CA who told us they were prison guards. There was this large group of very old people in the court yard, who were obviously together for some sort of tour. They were listening to some lame folk singer/story teller. They were also blocking the entrance to the hot tub area. A very effeminate, snooty man, who must have been their guide came over and told the other two couples to be quiet, even they weren't being loud at all. So we were all already riled up about that. Then we wanted to go to the hot tub. There was no way to get to it, without totally walking through the group and right by the singer. And they made fun of the prison guard ladies when they walked through! I was all set for a show down when we decided to head over, but not much happened. I told the guide guy that the set up was unacceptable and gave the old people the look of death as I tromped through in my wet bathing suit and towel. Hmmm...no one said anything to me.
We then shared our bottle of sparkling wine from Domaine Chandon. I was kind of tipsy by then and wanted to go out, so we walked down the street to a bar, where we tried local brews and had some calamari.