I used to be so good at blogging and now I suck donkey. So let's try again.
We just got back from our second honeymoon in wine country and San Francisco. A blessed blessed week without children! I love the little buggers, but my...some time without them was needed.
I have a ton of pics and family want to see them, but I don't want to post them on our family blog because I look like such a fat ass. And I don't want to direct family here in case I ever want to whine about them. And boy, I was an ever bigger fat ass by the end of the week! It was a week of gustatory debauchery--just about every meal was fabulous and then, of course, there was the wine....
So here are the deets from the trip.
We landed in SF on Sunday and picked up our convertible. Unfortunately, it turned out to be a silver PT Cruiser, but it was still a convertible! My parents lent us their Garmin GPS which proved to be invaluable. I love it so much, I want to marry it.
We drove over the Golden Gate bridge to Sausalito. It was strange, pacthy fog, and you couldn't see the tops of the bridge. We stopped on the opposite side and took a few pictures.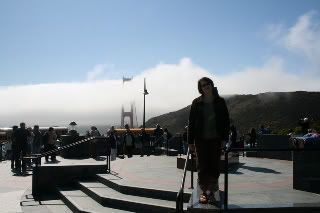 In Sausalito, we ate dockside at
Fish
, which specializes in fresh...you got it...fish. We ate at a picnic table in the sun. I had the tuna fish sandwich--line-caught, house-poached local Albacore tossed with nicoise olives, celery, red onion and a lemon caper mayo served on a toasted torpedo roll--and B had a po'boy. We each had a Butte Creek Organic IPA.
We then drove to Muir Woods to see the redwoods, which were stunning. They were actually a little smaller than I expected, even though they were ginormous.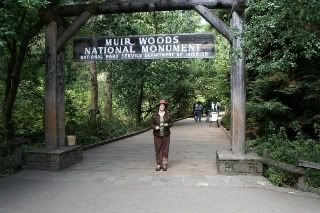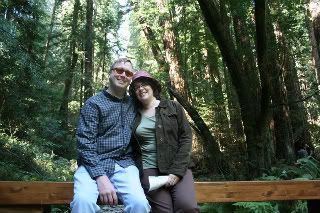 We then drove to Muir Beach overlook. It was cloudy, cold, and windy, but absolutely gorgeous. There were strange gun ports built into the side of the hill. Apparently, it used to be a military guard point for the bay area during WWII. There was a path out to the cliff point and a young man was filming with a real film camera on it--probably a student film maker.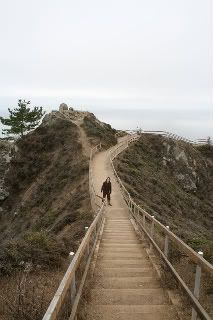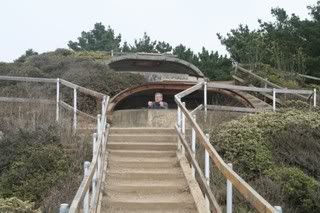 We then drove down to Muir Beach where there was lots of bohemian types picnicking, enjoying bonfires, playing with children and dogs, drinking wine. It looked like a fun afternoon. We spent just a little time there.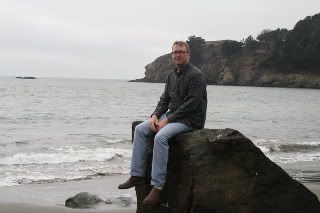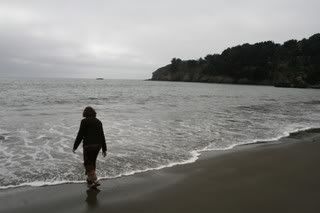 We drove along the coast to Stinson beach, and then drove through Marin County back to SF and then onto Sonoma Valley. On the way to our B&B, we stopped at our first winery--
Viansa
. This was probably not the best introduction to wineries. Although the grounds were beautiful, they also had a crowded marketplace. The place was packed and we couldn't even get to the bar for a tasting. So we hightailed it out of there and stopped at
Jacuzzi Family Vineyards
, where we had our first tasting. Our server was knowledgeable and helpful with suggestions for the area and we enjoyed ourselves.
We then headed to our B&B, the
Beltane Ranch
in Glen Ellen. We LOVED the Beltane! It was a decent price and absolutely beautiful. We stayed in
room 3
(click
the link
for pictures of the room). The room is the upper one on the left in the first picture below.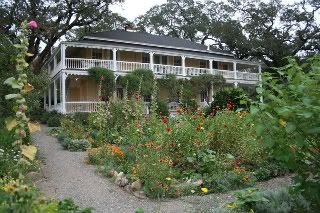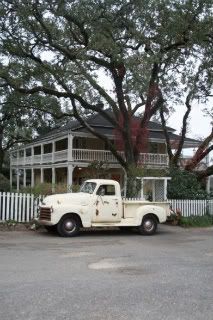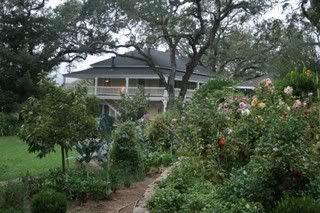 That evening we ate dinner at the
Fig Cafe.
We had the artisanal cheese plate. The stand out there was the brie-like
Pierre Robert
, but it was all fabulous. We shared a Mediterranean pizza and followed it with a heavenly pumpkin creme brulee.
My only complaint about the Beltane is that the walls are thin and we were right above the kitchen. Breakfast making woke me up each morning. But oh, what breakfasts! The first morning we ate in the dining room, where we were completely ignored by the older guests at the communal dining table. (People, you shouldn't be rude, just because we're younger.) We learned our lesson and the following days enjoyed breakfast on the porch you see in the picture above. It was cold, but wonderful. Fabulous views of the valleys around us and the gardens below us. Tons of birds. It was truly idyllic. The first breakfast was the tastiest, if the most uncomfortable (due to our dining companions): a cheese and vegetable tart (all of the vegetables from the amazing garden), cantaloupe, apple-smoked bacon, and lemon raspberry bread.